"We have failed to solve the health and equity crisis. We have failed to make healthcare affordable for all". – Stephen Klasko, CEO at Jefferson Health.
2020 was a challenging year for the Healthcare industry, seeing hospitals, surgeries and global health organizations face business-critical challenges in the shape of COVID-19, rising model costs and technological deficiencies, all of which foregrounded the need for substantial healthcare transformation and innovative healthcare solutions.
From CEOs like Stephen Klasko of Jefferson Health, and David Shulkin of Shulkin Solutions, here are 10 of the most senior leaders in healthcare transformation on how our medical systems around the world have weathered the storm of the pandemic, began to make use of smart technology to augment internal processes, and pushed to realize health equity to set the new standard for what 'good' looks like in the industry.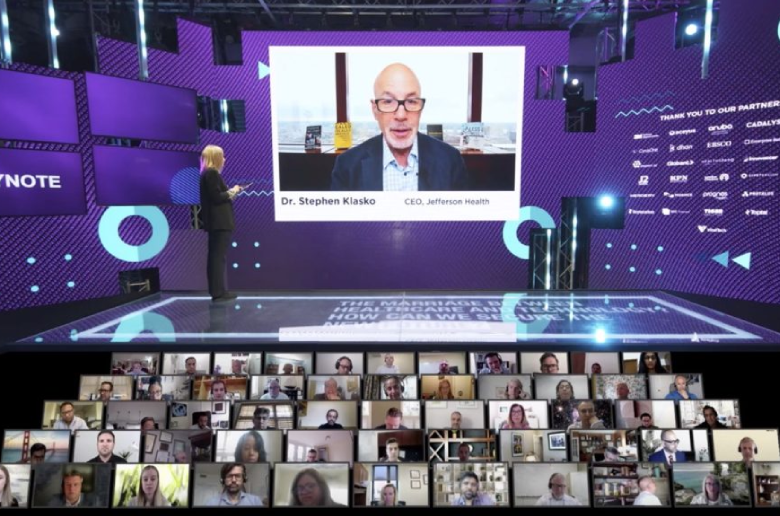 Health Equity
Dr. Stephen Klasko is one of the foremost healthcare leaders in the US, as President and CEO of Jefferson Health and Thomas Jefferson University, he has helped to establish and subsequently oversee a 14-hospital system in the Greater Philadelphia region to bring efficient and affordable healthcare to those that need it most. Klasko is also a nationally recognized leader and advocate for digital healthcare with expertise in innovation, care delivery and value-based treatment.
Focused on the importance of healthcare transformation and ensuring that that transformation is equitable, Stephen discussed the widening gap between the affluent and the poorer members of society at our recent healthcare summit and explored how this affects patient access to effective medical care. As Klasko put it, "connectivity is the new vital sign… the number one reason people were admitted to hospital or died wasn't not masking or social distancing, it wasn't their genetic code, it was their zip code".
That this is still the case in 2021 is damning and highlights the need in the post-COVID environment to take steps to better realize health equity, as Klasko stated, "quoting Dr Martin Luther King, 'of all the forms of social injustice, healthcare inequities are the most shocking and inhumane'. We've done almost nothing around that over 55 years and the pandemic proved that". COVID-19 has exposed the lack of health equity in the US, but these figures from July 2021 prove especially damning.
Throughout 2020 we learned that the healthcare companies that grew did so through effective management of threats through equity awareness, efficient innovation, and the implementation of small, strategic changes. The companies best prepared are the ones that fully understand ever-shifting healthcare industry trends, to this end, all healthcare providers must shift their priorities to focus on the following.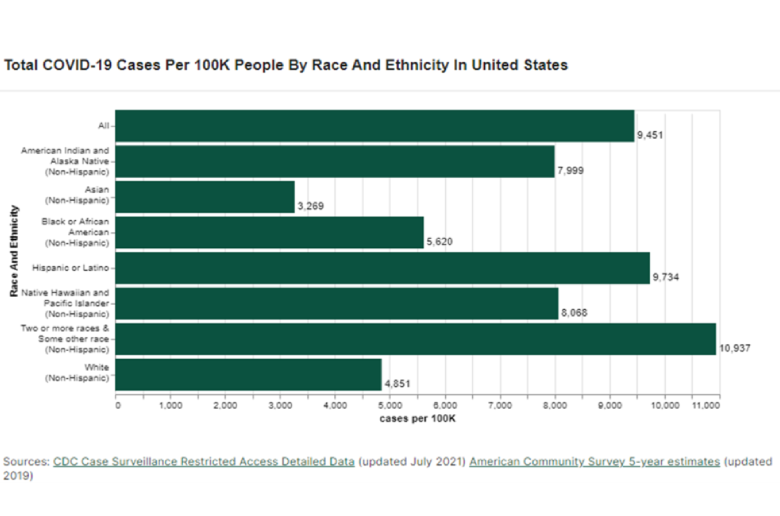 HealthEquityTracker.Org: 'Total COVID-19 Cases Per 100K People by Race and Ethnicity in United States'
The pandemic and these widening healthcare disparities have made it clear that the industry requires greater visibility and substantial change, in short, "we have to take an Apple in the early 90's approach of looking at what's going to be obvious 10 years from now and do it today". No medical system is truly effective unless it can provide health equity and 2021 is the year to plan and deliver, to do so we must elect the leaders who are driven by a desire to do the right thing.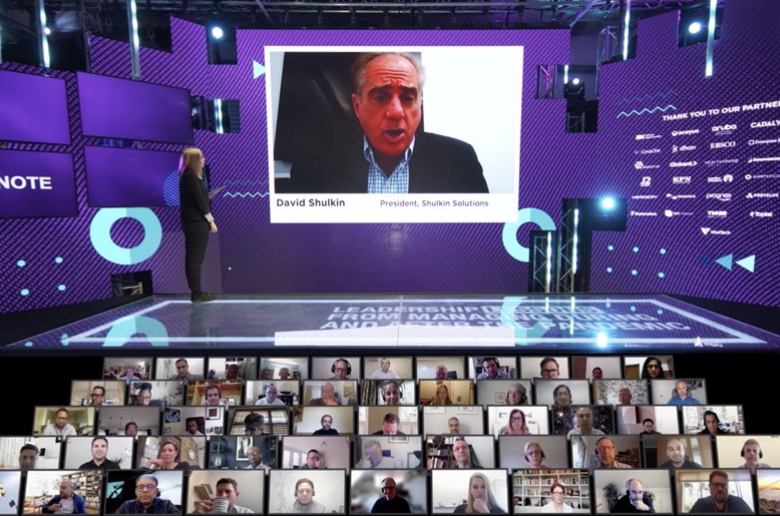 Intuitive Leadership
An industry renowned innovation specialist, David Shulkin is President of Shulkin Solutions and a former United States Secretary of Veterans Affairs within the Trump administration. Shulkin works with leading health organizations and companies to foster healthcare innovation and improve wellbeing for patients across the US, all of which prefigure him as one of the leading voices in US Medicare. In our discussion, David touched on what the pandemic has taught us on the importance of leadership, and the key tools that we'll need to manage healthcare industry trends in the new transformative era.
It's a necessary discussion as for many members of the public, faith in healthcare has been substantially shaken, with Shulkin acknowledging that, "pandemics tend to expose what doesn't work in systems. Most of us who have spent our careers in healthcare knew about some of these problems, but I think the world has now seen quite visibly that the healthcare system really doesn't function the way it should".
This is likely the most damaging consequence that the coronavirus had towards healthcare in 2020. If the medical industry operates on trust and credibility, any challenge to that notion can be extremely damaging. To this end, Shulkin stressed that "we need to make sure that we regain the trust of the public and the way that you regain that trust is through transparency of data and making sure that the science is the primary objective of the dialogue, not the politics". Unfortunately, public and physician perceptions have been affected at this time as we can see.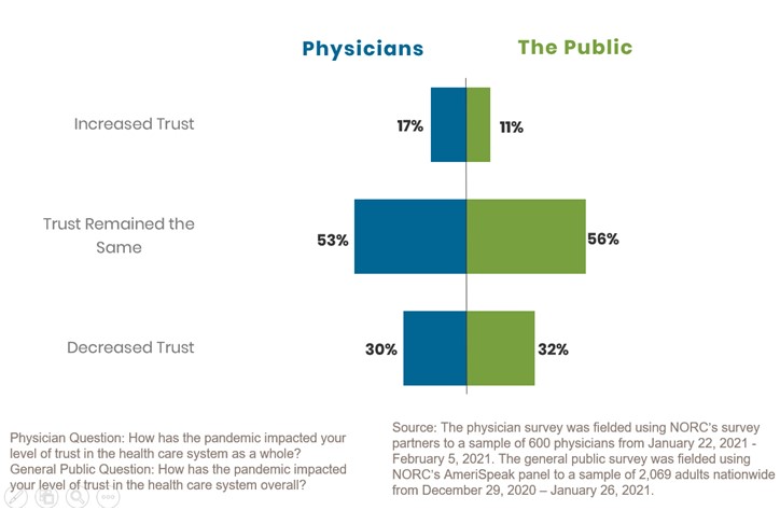 BuildingTrust.Org: 'How has the pandemic impacted your level of trust in the healthcare system as a whole?'
Effective leadership is vital at this time, especially as Shulkin pointed out that, "the most disturbing part of the pandemic was the fact that the system didn't operate as a system". Effective leadership is key and Shulkin went on to share the general optimism echoed by his contemporaries at the summit, suggesting that "there are many moonshots out there for healthcare leaders if they dare to dream big, if they are relentless, if they communicate why and they ask people for the help that they need in order to accomplish them". For leaders, failing to engage in healthcare transformation could prove disastrous as this will be key to regain trust and ensure that the digital divide grows no larger.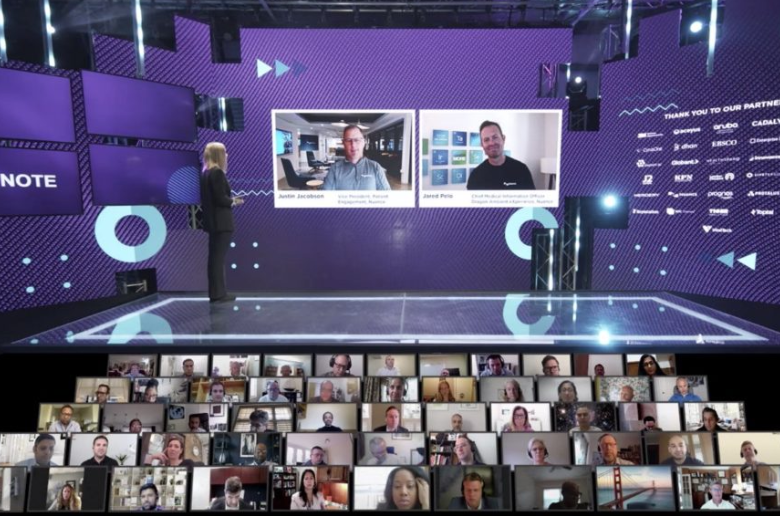 Omnichannel
In their roles as Vice President of Patient Engagement and Chief Medical Informatics Officer, Ambient Clinical Intelligence at Nuance Communications, Justin Jacobson, and Jared Pelo are industry-leading experts in digital transformation in healthcare. Specifically, they are focused on the use of ambient technology, AI, and the digital front door to help outline the practical steps that organizations can take to help negate the widening "digital divide" and accelerate the shift to value-based care.
It's vital work as, conventionally speaking, the healthcare industry has often been slow to adapt to the needs of the public, this however is something that the pandemic has visibly altered. According to Justin, "that is really one of the rare silver linings of the pandemic. More than half of patients, 52% report seeing improvements which they credit to virtual care and better virtual experiences, it's getting better but has a long way to go."
Bringing the agility seen within the tech industry to healthcare has long since been one of the primary goals for executives in this space but it seems that COVID may have revealed the most credible model to deliver these solutions. As Jared suggests, "agility and healthcare, that's a tough one to put in the same sentence usually, but I do believe that as technology has evolved, we're much better at small, rapid iterations than behemoth waterfall development". We can't move mountains in healthcare transformation, but we may not need to, instead we should focus on the incremental changes we can make in the day-to-day to ultimately realize an omnichannel approach.
Ultimately, the reality of an omnichannel system of care is closer now than it has ever been, it's just about "the focus on the right people and the right relationships", as Jared puts it, adding that, "the key is knowing the strengths of technology and where to supplement it with human beings". Only then can we start to provide a system of healthcare which mirrors the ease and advantage of omnichannel experiences in the consumer goods space. Prior to realizing this healthcare transformation however, we must ensure that our systems are ready for the implementation of lasting change.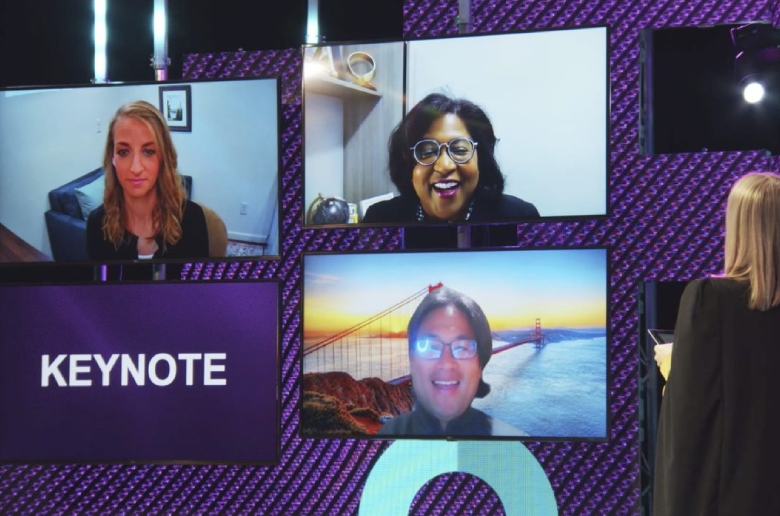 Change Management
Global healthcare systems are broken in many ways but the means of fixing them are endless. This formed the focus of the discussion between Alison Curfman, Karen Thompson and Erwin Cho, Clinical Director of Paediatric Operations for Mercy Clinic, AVP of Regional Community Engagement for HCA Healthcare & Senior Director of Strategy & Innovation for Kaiser Permanente. Focused on efficient and shareable data, fostering, and encouraging diversity and health equity, their talk sought to realize how beneficial change is best actioned and innovative healthcare can be instituted.
Alison Curfman suggested that, "traditionally, the way the healthcare system changed, and changes is slow, we often spend so long in the planning stage, that sometimes things just never get off the ground. We have to be able to determine how to be more agile". In the uncertain times that we find ourselves, agility is an obvious North Star in healthcare transformation, but how do we realize it?
The key, as Erwin Cho suggested, is simplicity: "when incentivizing changes, sometimes it's about making it really easy for that change to come about. If you think about experiences on the consumer goods side, when was the last time you needed to pick up a manual to operate an iPhone?". Healthcare is a heavily siloed industry, but by replicating the simplicity of experience found in the consumer goods market, we could better cater to and achieve fully digital healthcare. When 70% of digital transformation projects fail, it pays to simplify.
It was a point on which Karen Thompson concurred, "you bring your employees and colleagues to the table, but you have to bring your patients too… you have to do it together, it's not a matter of build and test and put out there and see how it goes,". In short, we must include all members across every touchpoint to provide services which help those in need, whilst also ensuring that those services allow humans and technologies to work together seamlessly.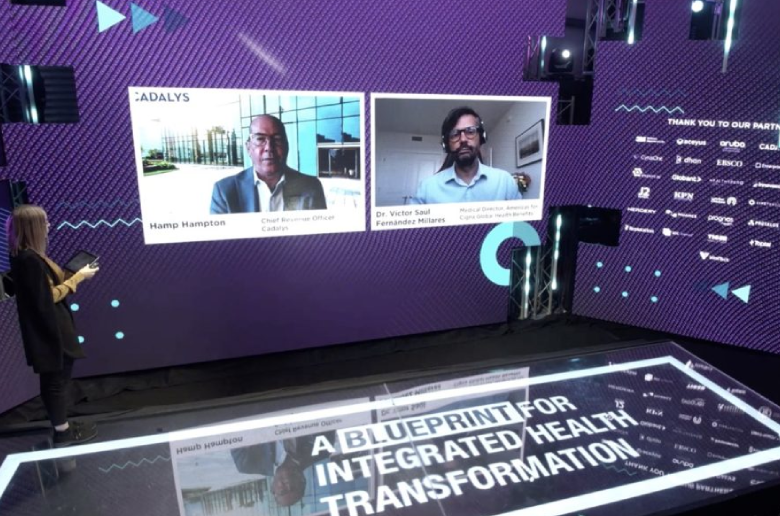 Balancing Humans & Technology
One of the most prevalent challenges to both payers and providers in healthcare transformation is to gain a 360-degree patient view. In their presentation on the subject, Cigna's Medical Director for America, Victor Millares was joined by Cadalys' Chief Revenue Officer, Hamp Hampton to discuss how they leverage technology to standardize and automate these mission-critical processes for greater efficiency and reduced costs, but also warn against the inclination to use these tools to replace human staff.
Within any modern healthcare model, few components are more frequently misunderstood than technology. As Dr. Millares suggested, whilst "technology is key to improve health outcomes", there are numerous conundrums and conceptual traps to avoid when building on your tech stack.
As Hamp Hampton identifies, perhaps "one of the biggest misconceptions about technology in healthcare is that it replaces people, and it doesn't. Technology is a facilitator, not just a solution by itself." In effect, technology in healthcare exists to augment processes so that clinicians can work at the top of their license and deliver more innovative healthcare transformation options and improved outcomes, not to phase them out. Humans will always be vital to the healthcare process, as Humana president and CEO Bruce Broussard suggested in 2016, "no technology will be a substitute for a smiling face, assisting in feeding or comforting with an arm to hold. Physicians, clinicians or family members simply cannot be replaced by machine learning in healthcare."
There can be no doubt to what Hampton signposted in that "COVID has cast a light on the challenge in society as a whole around anxiety, enhanced depression and a general sense of stress", it's just that the incorporation of technology into your healthcare transformation plans needn't be one of them. Instead, providers should, "begin with the end in mind, engineer that, and take your time in planning", in doing so, you can effectively prepare your patients and staff for the 'New Normal' of innovative healthcare and provide personalized care models which join both more effectively.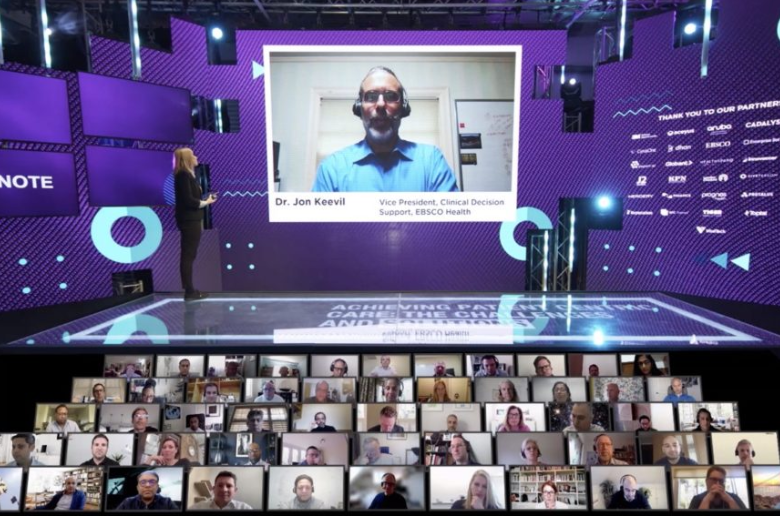 Patient-Centric Care
Providing personalized medicine that remains responsive to a patient's values, preferences, learning styles, and varied medical literacy can be a high bar but it is essential to aim for should we wish to ultimately provide digital healthcare services that work for the many, not the few. Providing this level of personalized care is essential in the 'New Normal' and for this reason we spoke to personalization expert and Vice President of Clinical Decision Support for EBSCO Health, Dr Jon Keevil.
The patient-centric care model – where the patient is actively encouraged to participate in their own medical treatment alongside health professionals – has become an increasingly valid means of understanding the needs of the individual and bridging the gaps that often exist between provider and patient.
Delivering this clinical decision support is vital and as Keevil acknowledged, "I think what we all see when we talk to patients after they've gotten care and we see things that we're worried about, or we see thing that could've gone better, patient-centric is a really good description for the kind of things that don't happen when we wish they had". Clinicians often enter the healthcare industry due to their desire to help those in need and providing a more seamless decision-making process is vital to this pursuit.
Keevil went on to add, "as we give the patients more control, it's been recognized on the clinicians side that we have to do things that really meet their needs, it's unfortunate that we had to wait until this kind of signal to really do something about it, but the bottom line is going to matter. We need to up our game." The time to implement radical overarching change in the industry has come, COVID has revealed the importance and means of realizing personalized patient care, executives must now seize the opportunity.
Post-Summit Reporting – Healthcare Transformation 2021
GDS Summits bring renowned senior executives together to connect and provide insights. If you are a leader in the healthcare industry, don't miss out on the opportunity to engage with other Chief Executive, VP and Director Level Leaders who are driving change both now and into the future.
Not simply comprised of the keynotes we host, summits also provide interactive Q&A and polls as well as breakout sessions, roundtables and 1-1 business meetings with executives. Across each of these, we asked leading healthcare executives and providers about their current priorities and how far along they were in implementing them, the results of which can be seen below.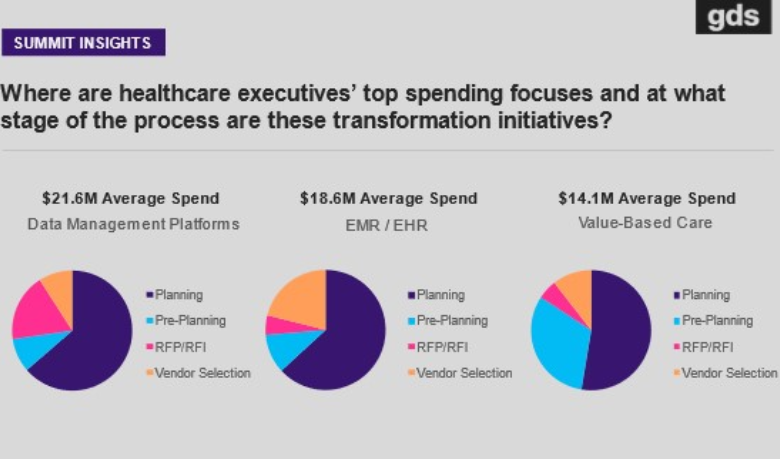 Unsurprisingly, in a time when face-to-face consultations are not always possible and patients wish to take advantage of remote care opportunities, cultivating an effective data management platform has never been more important.
This is reflected not just in the average spend that companies are willing to dedicate to its implementation but also in Hamp Hampton's discussion at the summit, "what success looks like for enterprises delivering Healthcare is that you have to be able to have an actionable central location where you can access the data to make decisions."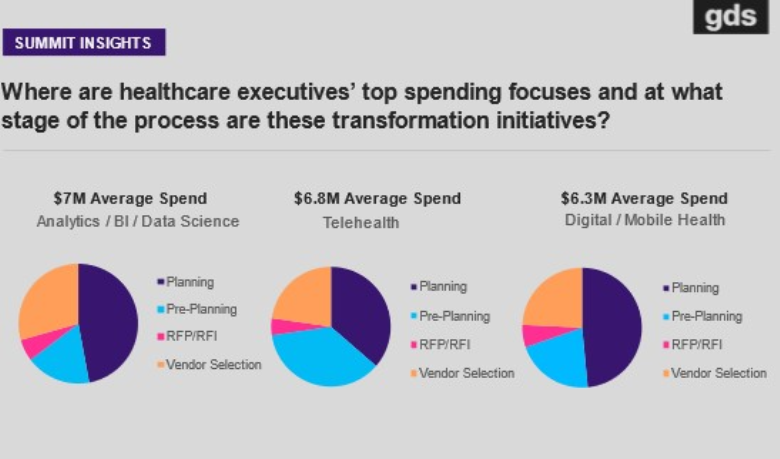 From GDS' research, we can also see that digital and mobile health are areas in which executives were willing to invest less. This is likely due to the increasing desires of patients to physically meet with their physician after a year of lockdowns and social distancing. Patients generally look for apps with three basic functionalities, ability to schedule/cancel an appointment, to request prescriptions, and easy access to medical records, only 11% of hospital apps provide all three, which goes some way to explaining the general lack of enthusiasm patients have for them.
As Alison Curfman suggested when discussing how we can go about effectively actioning change, "we need to make more room for the empathy, compassion, and those human connections that patients want", the patient must come first and there is no better way of showing them that this is the case than by meeting face-to-face to discuss their situation.
NG Healthcare Summit June 2021 – In Review
Based on the insights generated from the summit and thanks to the words from our esteemed speakers, it's clear that the healthcare industry has never been under greater pressure but equally, with as many options to improve. Though the problems of inequality, mistrust and change are no doubt substantial, executives in healthcare are unified in their optimism.
Healthcare in 2021 is unfortunately still a story of widening gaps, whether that's the gap between the wealthy and the less wealthy, the vaccinated or the unvaccinated, or the innovators and the imitators. Consequently, it's essential that we find the solutions that benefit all. However, whilst the healthcare industry may be slow to adapt, through its propensity for innovation and empathy, there are clear and present signs that the gulf in these disparities could slacken in the post-pandemic and beyond.
GDS Summits are tailored 3-day virtual event conferences that bring together business leaders and solution providers to accelerate sales cycles, industry conversations and outcomes. In regard to the NG Healthcare Summit, 75% of Delegates said their overall experience was Above Average or Excellent, whilst 100% of Delegates said the digital summit provided them with actionable outcomes to support their current initiatives. Hear from attendees on how GDS has helped them to achieve their business outcomes, here.
Continue the debate at GDS' biannual NG Healthcare Insight Summits where we bring together senior healthcare executives who are actively seeking to share, learn, engage, and find the best solutions.
Back to insights