"If you continue to play it safe, unless you have an outrageous amount of budget, people aren't even going to notice." – Fernando Machado, CMO, Activision Blizzard (Formerly Restaurant Brands International)
Few divisions in the workplace have been as profoundly empowered as marketing has in recent years.
As lockdowns and remote work became an increasingly common component in our working lives, companies had to turn to marketing to connect disparate segments of their business and manage the ailing relationship with an increasingly distant consumer. As we near the end of the pandemic then, it's important to ask, what should the new marketing strategy look like in 2021 and how can Chief Marketing Officers help to bring it to life?
From CMOs like Amy Fuller of Accenture and Fernando Machado of Activision Blizzard, here are 6 of the most senior leaders in the marketing industry on how they're answering this question, as well as how they and their teams across the globe sought to deliver to the constants of brand awareness, lead generation and business growth during a period of near constant operational flux.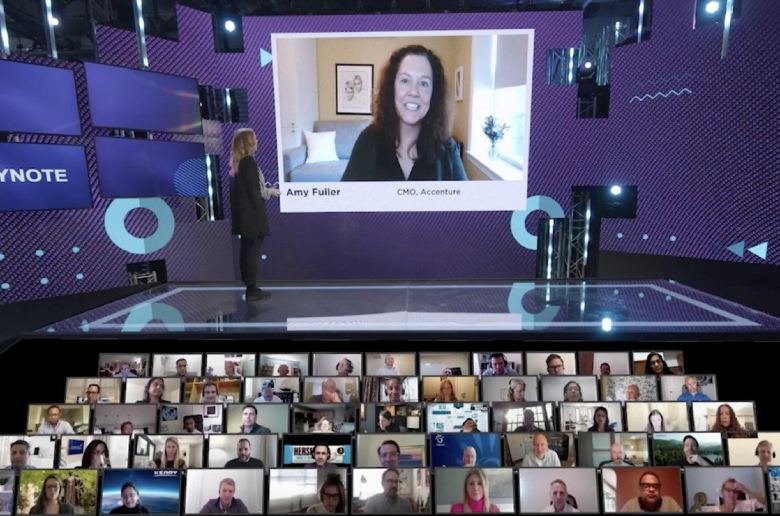 Trust and the Chief Marketing Officer
The last year has been an unexpected educator for Chief Marketing Officers and it has forced them to learn tough lessons out of the extraordinary circumstances which changed the habits of customers, as well as the way that the business went to market. Consequently, CMOs across the globe have shifted focus towards shaping a new playbook that shows compassion and adds empathy and trust to marketing strategies in 2021 and beyond.
Amy Fuller is one such CMO and though she is stepping down from her role as Chief Marketing & Communications Officer for Accenture at the end of August 2021, it's been no less pertinent an aim throughout her tenure. In her time with the company, Amy has helped Accenture to become one of the most valuable brands in IT services, leading on numerous innovation projects including a full transformation of the marketing & communications function and forging new approaches driven by data & analytics.
During her keynote presentation at GDS' US CMO Brand Summit in April, Amy focused on Empathy, Trust, and the CMO and how pivotal it is that they become part of the marketing repertoire, noting that "empathy is the breakout star, the new marketing playbook must be grounded in it". Empathy will be key to unlocking opportunities for the future of marketing as guaranteeing that the customer feels heard is as vital as listening to what they have to say. As Amy suggests, "it's not just about understanding the audience, it's about understanding more about where they are coming from and what they are experiencing".
During July of 2020, the communications firm Ketchum revealed that 45% of consumers had changed brand preferences during the pandemic due to the brand failing to appreciate their struggles in relation to Covid-19, and this is how empathy will prove critical in the success of your marketing strategy in 2021. This has always been a necessary component in doing business of any kind but as Amy suggests, "the lessons that we learned out of the crisis weren't crisis factors, they were enduring factors that we understood but must make use of indefinitely", it's time for CMOs to listen.
Trust is hard won and easily squandered especially as consumer expectations continue to shift, however, Amy was keen to stress that, "speed and agility are now the calling cards of marketing, more than they ever have been". If any team can adapt quickly to change of any kind, marketing has more than proved itself; once we shift to the changing needs of the customer to ensure trust though, how do we keep it?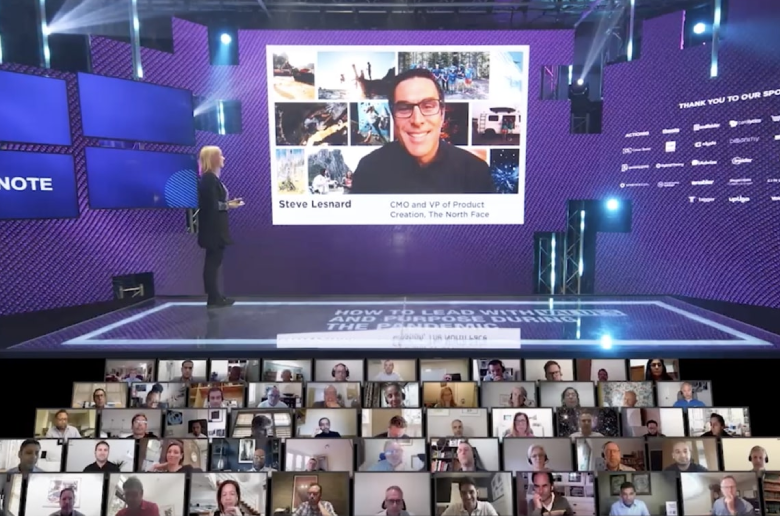 Values, Purpose, and the Chief Marketing Officer
Covid-19 forced brands to think of the role they can play to support their community and to then reframe the way that they market themselves to combat the mandatory closures and a surge in digital Darwinism. Brands have had to find new ways to connect with their audience without studio setups and huge budgets to bolster their efforts. The North Face is one such brand but thanks to CMO and VP of Product Creation Steve Lesnard, throughout 2020 they pivoted to inspire, engage & serve communities in new, unforeseen ways, this was the basis of Steve's keynote at June's summit.
Steve has been focused on the creation of products with a purpose throughout the course of his 20+ year career in the sports apparel industry, working for brands Nike and now, The North Face. Responsible for The North Faces' product creation engines across apparel, footwear, equipment and merchandising his accountabilities are extensive. Currently, one of his major concerns is dedicated to establishing and cultivating the brand's value and purpose as when it comes to CSR "normal is not good enough" anymore.
The Chief Marketing Officer, now more than ever, plays an essential part in establishing how a brand understands and protects its consumers and employees from harm of all kinds. As Steve suggests, "the world is not fair or equal enough, there is not enough representation. The world is on fire, and we have to reset our approach". Communicating and forging an effective CSR strategy is critical as "it's how you deal and react to the storm that matters most".
Particularly last year, with the unexpected distance between consumer and brand, this was made difficult, but in 2021 it is vital that you "know what you stand for, know what your values are and trust and empower your team". It's not enough to post on social, people need action and" if you show up to key cultural moments like Black History Month, International Women's Day, Pride, do it authentically. Show us you're helping the community", but critically, "only show up if you mean it. If you just show up because you feel like you have to, your community is going to call you out on it".
Every brand is different but, explaining how The North Face will continue to empower its community, Lesnar stated, "we're going to come to try to inspire our community to push themselves and do things that they've never done before or to do things for the thousandth time, but to do them differently." Values aren't the only things that are having to shift however, nothing is more certain than change currently, so how does the modern CMO keep up?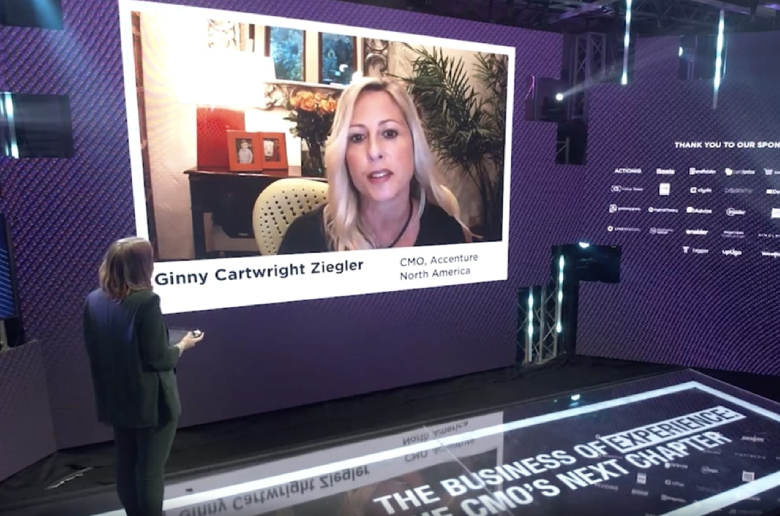 Change and the Chief Marketing Officer
After a year that could easily be viewed as a professional masterclass in change, customer-obsessed Chief Marketing Officers with a growth mindset have re-strategized, experimented and pivoted to face challenges in the form of a proliferation of channels, new worlds and even the 'new physical'. During GDS' US CMO Brand event in June, Ginny Ziegler, Chief Marketing & Communications Officer for Accenture's North American operations, discussed the shifting marketing strategy requirements in 2021.
As Accenture's Chief Marketing & Communications Officer for North America, Ginny leads a team of marketing professionals working to fuel growth in the United States and Canada, she is responsible for the creation and implementation of marketing and communications strategies that drive category brand positioning, enable sales, improve people engagement and foster inclusion.
When asked about the qualities that embody the modern marketer, Ginny stated, "marketing professionals must thrive on change". CMOs must be as open to change as the times that they find themselves in and the customers that they serve, adding that, "the path to progress is change and change requires action". Increasingly, the key to remaining reactive to this change is via digital.
As Ginny put it, "digital is exploding and consequently, our digital and physical lives will continue to converge". What this means is that CMOs need to focus on what they do and say – as Ginny's colleague, Amy Fuller suggested above – but also what they provide. As Ginny indicates, "there are going to be more worlds. We're going to see a time quite quickly where every brand is going to have its own metaverse". The digital and physical intersect like never before and mastering the space between them will be the new frontier on which marketers win, lose and critically, overcome change.
As Ginny suggests, "consumers aren't comparing experiences with brands in the same space anymore, now the bar is set as high as the most exceptional experience that a consumer could have, what we create for them must meet or exceed those expectations". Ultimately this creativity is what will define future marketing trends and as Ginny concluded, "we can be certain that the Chief Marketing Officers who are customer obsessed, who have pivoted to harness change – they've galvanized the entire business around delivering exceptional experiences to their customer, their employees and communities".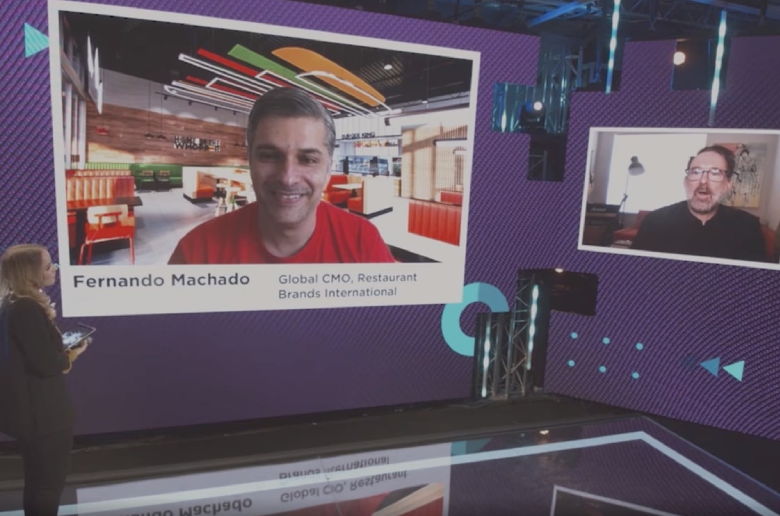 Creativity and the Chief Marketing Officer
Creativity is a source of competitive advantage; whether that's creativity in the digital world or the physical, creativity towards brands and people, or to media and consumer expectation, it's time to capitalize. This formed the basis of our discussion with Fernando Machado, formerly Global Chief Marketing Officer for Restaurant Brands International but now CMO at Activision Blizzard. During his discussions Fernando revealed the powerful marketing opportunities that lie just under the surface of calculated creative risks. What became clear? Playing it safe is no longer an option.
Consumers have changed in the 21st century, and as Fernando put it, "people are not just sitting there comfortably on their couches, waiting to see your great campaign, waiting to talk about your great product, that's not how things work anymore". As technology has advanced so too have the number of channels that consumers can exist across, and as a result, attention is more divided than ever. On this, Fernando says, "if people don't pay attention to what you're doing, it doesn't even matter what the brief was, how much you spent on production, what your plan was", in short, it's wasted investment.
How then can marketing leaders take advantage of digital marketing trends? The answer lies in creativity, as Fernando suggests, "creativity needs to be embedded in everything you do, it can be a dollar multiplier, it can make people pay attention to what you're doing and can make you stand out in a sea of clutter". Consumers don't want to be sold to, especially considering the recent crises, and as such, they're wary of the visual and audio language of traditional and digital ads; it's time for change, as Fernando implies, "if it looks like an ad, sounds like an ad and smells like an ad, then it probably isn't a good ad".
When we consider the power and impact of digital technology described by Ginny Ziegler above, it's clear that there has never been a better time to play with your message and brand. Creativity comes in many forms but a common detractor from experimentation of this kind is that it could prove expensive, Fernando acquiesced to this point stating, "the reality is that you do need some money to produce, to pay your agency, to seed the idea out there, but do you know what's really expensive? A massive media plan to make people pay attention to something that they don't care about".
The most successful marketing campaigns of the 21st century are creative; built on subverting the norm, challenging expectations, and playing with the format. The real value lies in doing something that you've never attempted before, as Fernando suggested, "if you are the first person to bring an upside-down urinal to a museum, you're probably an artist, if you're the second, you're probably a plumber". To cultivate this creativity though, you need first to have a culture tolerant of its presence.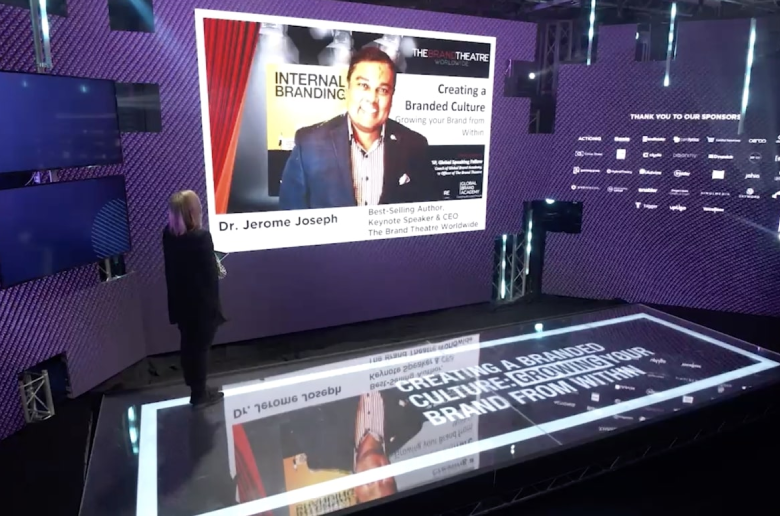 Culture and the Chief Marketing Officer
World class brands are grown from within and with this in mind, developing a culture that helps to nurture your employees into brand ambassadors is not only valuable but pivotal when facing the 'New Normal'. With a more strategic internal branding approach any organization can help facilitate this growth and develop a company culture that works not just now but into the future, this formed the basis of Dr. Jerome Joseph's keynote presentation during June of this year.
A Best-Selling Author, Keynote Speaker & CEO for The Brand Theatre Worldwide, Dr. Jerome has helped to initiate and support numerous cultural growth projects throughout the course of his career. Recognized as one of the Top 30 Global Thought Leaders on Branding. He has spoken in 34 countries and has transformed over 1,000 brands in 24 years.
Every gesture counts within your organization and as Dr. Jerome suggests every brand is "the product of a thousand gestures". In line with this, it's vital that you train your staff to reinforce this sentiment both internally and externally. Citing Michael Asner, the former CEO of Disney, Jerome outlined that "a brand is a living entity, and it is enriched or undermined over a period of time", so to make sure that your employees are constantly enriching that brand, Jerome has identified four potential pain points to cover when altering the culture of your organization.
Clarity: "Number one would be clarity, today many employees don't know what the brand stands for". This is something that you need to establish from top-level down to guarantee that everyone in the organization recognizes the wording and pulls in the same direction.
Connection: "Here the employee knows the brand, but there is a lack of belief in it, as such they are unable to deliver it". Help employees to engage in the brand, identify why you matter in a sea of competitors and how you fill a gap in the market that no one else can.
Consistency: "Here the employee believes in the brand, but they only believe in it on Mondays, Wednesdays and Fridays". Belief can only take you so far. It is pivotal that what your employees say about you is consistent both now and into the future, ensure that everyone is speaking the same branded language and that this continues now and in future.
Champions: "I go to many organizations and ask, 'who are your champions?' and no one's able to give me an answer. Who are the champions in your organization, how are they participating, how are they advocating, how are they defending your brand?"
At the end of the day, as Jerome put it, "ask yourself this question. From my receptionist to my CEO does everyone understand or believe in my brand? If not, how do we expect our customers to?" Clearly, surrounding yourself with the right team and talent is pivotal in this pursuit, how then can we ensure that every hire is the right one?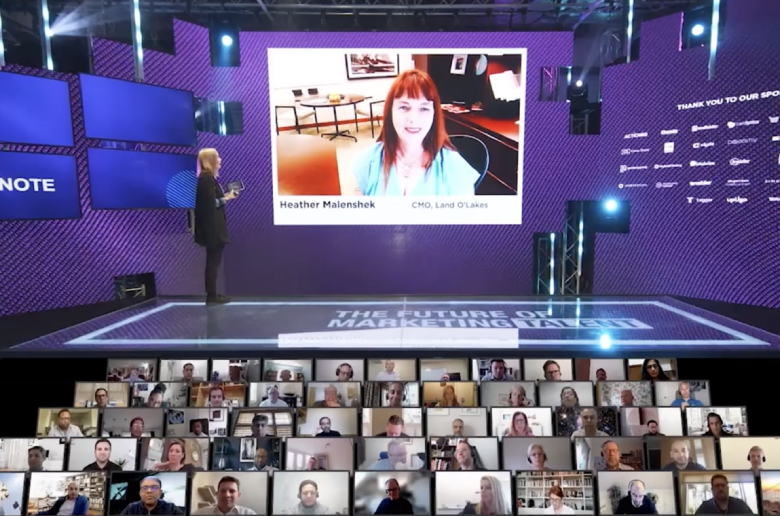 Talent and the Chief Marketing Officer
Out of sheer necessity, business' have been forced to change how they accomplish work. Whilst some business may have been utilizing AI to automate work or relying on the gig economy for flexibility to varying degrees already, COVID-19 may be the catalyst that puts these trends on a new trajectory. In her session on the future of marketing talent Heather Malenshek, CMO for Land O'Lakes discussed how the role of marketers has changed and what qualities they should look for in candidates when attempting to realize their marketing strategy in 2021.
Building, developing and ultimately, retaining a diverse marketing team that reflects your business, is no mean feat, and as Heather discussed, it comes with the added pressure that "it isn't just about the skillset we need today but the skill set that will really help us to take things into the future". With all these multi-faceted demands being made of new marketing talent it would be easy to get lost in the noise, especially as Heather suggests, that "we have one of the most complex professions that you can have in business today".
If creativity is one the key value drivers for the modern marketing department – as Fernando Machado suggests – then increasingly this is something that we should look for when hiring the next generation of marketing talent, but as Heather suggests, "anybody can be a creative, the trick is how you apply it to your role". To this end then, she suggests that instead, "it's very important to have people who are able to bring a level of simplicity to complex issues", creativity will naturally follow once you've solved these issues and the groundwork has been effectively laid.
Obviously, this is a time sensitive issue and naturally, the companies and Chief Marketing Officers that prepare or have already prepared will win out above those that don't, as Heather suggests, "the speed of change is going to accelerate, the complexity is going to increase and we're likely to be in this war on talent with companies fighting it out to get the very best on the team". In this war on talent though, Heather was keen to stress that diversity must be prioritized, as "having a diverse team really brings a lot of richness and representation that we wouldn't otherwise have".
At the core of every 2021 marketing strategy Heather stated that, "everything we do must drive a level of impact and help us learn how to drive impact". The Chief Marketing Officer needn't shoulder this burden alone though, as Heather added, "I believe that really good talent, knows good talent", and in line with this, we must involve the team, ask them what they need from a colleague and go after this in the recruitment process. The role of the CMO is everchanging but as Heather suggests, "CMOs need to be master integrators within companies, that move towards becoming master collaborators".
Post-Summit Reporting
GDS' CMO Brand summits bring renowned senior marketing executives together to connect and provide insights. If you are a leader in the space, don't miss out on the opportunity to engage with other Chief Executive, VP and Director Level Leaders who are driving change both now and into the future.
Not simply comprised of the keynotes we host, summits also provide interactive Q&A and polls as well as breakout sessions, roundtables and 1-1 business meetings with executives. Across each of these, we asked leading marketing executives and providers about their top spending focuses and at what stage in the process they were in implementing these transformation initiatives, the results of which can be seen below.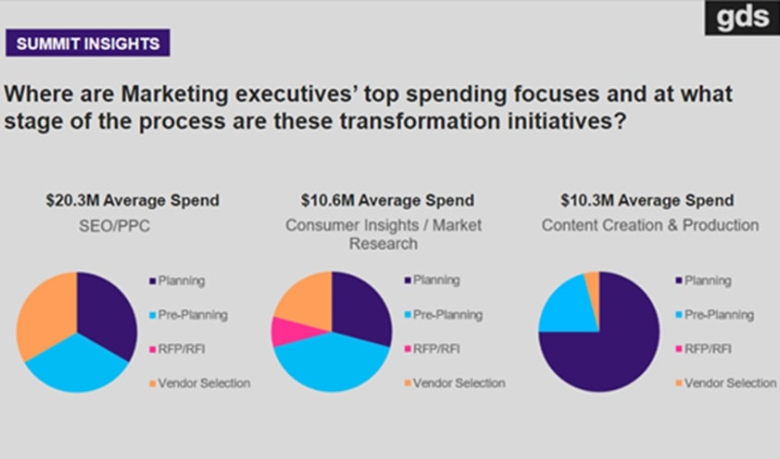 Unsurprisingly, at a time when gaining the attention of a prospective audience is essential, SEO and PPC have taken priority for CMOs across the board, with an average of $20.3M invested in boosting its impact. This is consistent with findings from HubSpot during 2020 which discovered that around 64% of marketers actively invest time in search engine optimizations to guarantee that their message and brand are seen. As Fernando Machado suggested, "if people don't pay attention to what you're doing, it doesn't even matter what the brief was, how much you spent on production, what your plan was".
CMOs are also focused on gathering consumer insights and market research with $10.6M on average spent on learning more about the prospective audience and what they like and dislike. As Dr. Jerome suggests, "if you have a brand, ensure that everyone knows it and make sure that it's relevant to the people", this will be best achieved through effective market research and seeding your ideas to a group receptive to the message.
CMO Brand April & June 2021 – In Review
The role of the CMO has widened substantially in recent years and increasingly, marketers at the executive level are having to absorb the skills and expertise of other c-level executives to provide value to their respective organizations. Based on the insights generated from GDS' CMO Brand summits and thanks to the words from our esteemed speakers it's clear that Chief Marketing Officers have had to become au fait with the issues affecting business across all of its functions at this time to deliver results.
What role does market play in the 'New Normal'? It isn't hyperbolic to suggest that it plays a little of all of them; as the role of the CMO has widened so too has the function itself, and to deliver a successful marketing strategy in 2021, marketers have collectively had to become more creative, inclusive, and empathetic to deliver to the goals and priorities of the business. CMOs have no doubt been challenged in the wake of Covid-19 but what became clear when listening to them at GDS' summits this year was that there are few challenges that marketing, and its leaders cannot ultimately surpass.
GDS Summits are tailored 3-day virtual event conferences that bring together business leaders and solution providers to accelerate sales cycles, industry conversations and outcomes. Regarding the CMO Brand Summits, 88% of Delegates said their overall experience was Above Average or Excellent and 88% of Sponsors said the quality of their 121 meetings was either Above Average or Excellent. For more, click here to hear from attendees on how GDS has helped them to achieve their business outcomes.
Continue the debate at GDS' CMO Brand Insight Summits where we bring together senior marketing executives who are actively seeking to share, learn, engage, and find the best solutions.
Back to insights