Since 2020, Covid-19 has steadily destabilized the relationship between patient and provider in our hospitals and healthcare systems. Restrictions and remote living represented significant challenges for medical professionals and it's for this reason that innovation was pivotal.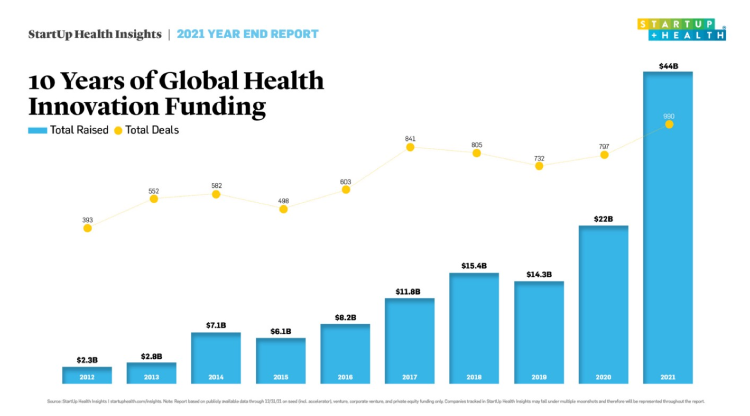 As StartUp Health recorded, we invested heavily in innovation in 2021 and it's a trend that we can expect to continue. Deloitte have already anticipated that one of the key enablers to success in the medical trade in 2022 will be the wide-scale adoption of new digital and cognitive health technologies, but which are likely to draw the most attention. Increasingly, it appears that the tools which allow humans to more effectively collaborate with machines will top the list.
Human/Machine Collaboration
Speaking at the Medidata NEXT conference in 2018, Ronan Wisdom, a Digital Health Leader for PwC spoke on human/machine collaboration. According to Wisdom, "we're entering an age of human empowerment where technology will augment humanity & fundamentally improve the way we live and work." As Wisdom added, this collaborative technology breaks down into three key trends.
Smart Devices
The potential and power of wearables, particularly during a pandemic, but beyond, is obvious. Helping physicians to measure the patient health without having to meet physically, we've extended touchpoints further than ever before. This smart transformation has been achieved through the integration of both Remote Patient Monitoring technologies and wider connected health devices.
Connected Health Devices: These devices receive information on a patients health measures and then transmit them back to providers for diagnosis. Think wearable heart monitors, continued glucose monitoring systems, or Fitbits.
Remote Patient Monitoring: Similar to connected health devices, RPM tech falls more in line with telemedicine offerings. They automatically observe and report on patients, often with chronic illnesses. These can take the form of digital blood pressure monitors, programs for those with MSK like Hinge Health, or Philip's tools for care teams.
These technologies are already revolutionizing how we connect with patients, but they're set to boom in coming years. According to Grand View Research, the size of the medical IoT devices market in set to climb to $543 billion. Equally, in 2022, it's estimated that global healthcare savings from the deployment of medical IoT will accrue to $63 billion. The time to invest in smart devices is now, especially when we consider how these tools interact in innovative ways.
New Interactions
Staff shortages in healthcare have become a global issue – notably so as Covid came to the fore. To address this growing issue, more and more healthcare executives are looking for technologies that augment the potential of workers. One of the most salient examples of this are cobots.
Cobots: Healthcare collaborative robots are automated systems deployed in the medical industry to perform various tasks to help free up providers. This can include anything from the administrative task, lab testing, patient care, and surgical aids. In Tsinghua University this technology has already been put to the test with researchers designing a cobot to help healthcare staff test for the virus.
We live in a world in need of 6 million more nurses to achieve global health targets. Additionally, we've seen a heightened number of general staff absent with illness. To counter this, Cobots and the new interactions that they provide will become an ever-present factor in the healthcare mix.
Artificial Intelligence
Artificial Intelligence technologies will likely be one of the more familiar collaboration tools in healthcare but progress is ongoing. As Accenture discovered, 84% of business executives believe they must use AI to achieve their growth objectives – this can be felt tangibly in healthcare and it's not difficult to see why.
When minute-to-minute decisions mark the difference between life and death, the removal of all doubt is essential. AI has a number of use cases in healthcare but critically it can help enhance preventive care and quality of life, produce more accurate diagnoses and treatment plans, and lead to better patient outcomes overall. Essentially, there is no model for healthcare in the future in which AI does not feature heavily.
In spite of our continued use of AI in healthcare though, it's still not where it needs to be. To combat this, we need to focus on the realization of "collaborative intelligence". As Wisdom explained, "if you think about what a human is good at – articulation, communication, improvisation, generalization – and what a machine is good at – repetition, memorization, prediction – we need new ways to bring those two ends together to unlock new value".
Exploring Human/Machine Relations in Healthcare
By combining each of the three tools above, any healthcare provider can more effectively situate themselves for human/machine collaboration success in 2022 and the future.
GDS Summits are tailored 3-day virtual event conferences that bring together business leaders and solution providers to accelerate sales cycles, industry conversations and outcomes. Regarding the Healthcare Summit 75% of Delegates said their overall experience was either ​Above Average or Excellent and 100% of Delegates said the Digital Summit provided them with actionable outcomes to support their current initiatives.
For more, click here to hear from attendees on how GDS has helped them to achieve their business outcomes.
Continue the debate at GDS' Healthcare Summits where we bring together senior medical executives who are actively seeking to share, learn, engage, and find the best solutions.
Back to insights