Key Learnings from the Data & Analytics Summit
With the exponential pace of change unleashed via recent AI innovations, the days of fear-inducing sci-fi books and movies have been replaced with deeper, more constructive looks into how these changes and advances will affect the workplace. In fact, at a recent GDS Data & Analytics Summit, the AVP of Analytics & Strategy for Sun Life, Mr. Daneyal Anis, not only explored this pertinent topic but looked at corresponding ethical considerations. Ahead, we'll look at key learnings from Daneyal's presentation.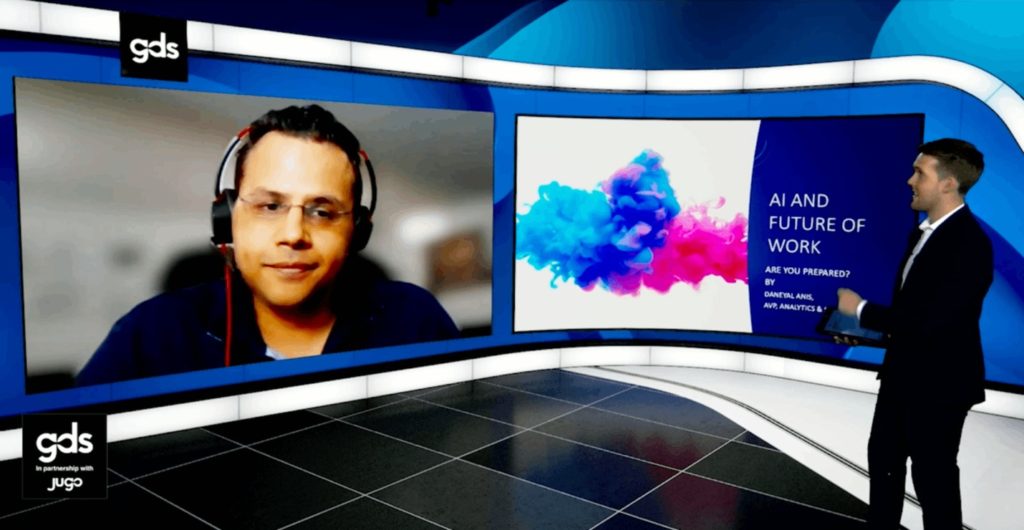 Host Alex Wood chats with Sun Life's Daneyal Anis 
In Brief: 
AI vs Humans

 

Future Roles for AI

 

Future Roles for Humans – and a Look at AI Ethics

 

How AI Could Change the Job Market

 
Why Humans Will Always Be Needed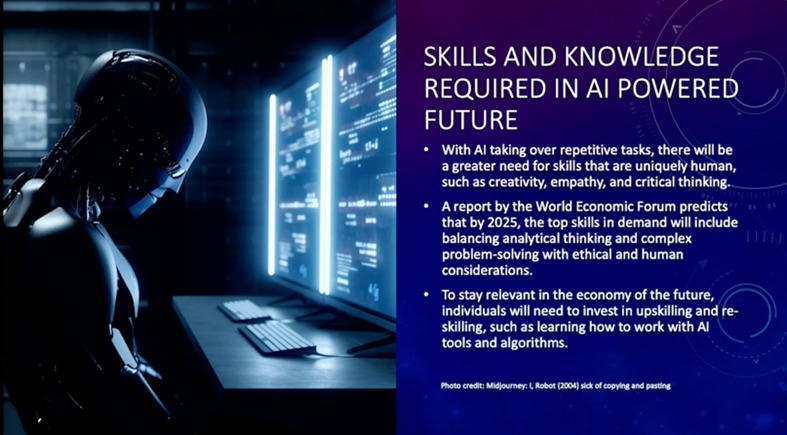 A recent report by McKinsey showed that AI could potentially automate up to 800 million jobs by 2030, so it's no secret that it's changing the way we work and, for some, is also a source of fear. And this fear, the fear of new technology, has long been around, as Daneyal pointed out, "there will always be fear of new tools – like there was with calculators in 1965, if you can imagine that." Today, however, the fear is out of replacement: employees don't want AI to take their jobs.
As we learned from Daneyal's keynote, there are two major points to remember as AI becomes part of the workforce:
AI is here to expedite menial tasks and allow humans more time to focus on more advanced problems
Humans will always have creativity, empathy, and critical thinking that AI simply cannot replicate.
This equals a balance between man and machine but, just as important, a greater overall business advantage, as backed by a PwC report which showed the agreeance of 72% of business executives. However, as Daneyal explains below, the key to making this happen is education:
(VIDEO)
Examples of AI Roles in the Future
As we become more comfortable with AI, it's more relevant than ever to look at what roles AI may have in the workforce. According to Daneyal, here are 6 probable examples that you may not have considered (and may find quite helpful)
AI Ethicist: Responsible for setting guidelines and best practices for AI.
AI Linguist: Responsible for developing algorithms that can accurately understand and respond to human language, such as Natural Language Processing (NLP).
AI Prompt Engineer: With generative AI capable of generating images, videos, and designs based simply on text, creating prompts and parameters to make the best use of AI is already an emerging discipline (ChatGPT ring a bell?).
AI Visual Designer: Responsible for designing and implementing visual interfaces that can effectively communicate information to AI systems and enable effective interaction between humans and machines.
AI Human-Machine Relations Manager: Responsible for developing and implementing strategies that ensure effective collaboration between humans and AI systems.
AI Cybersecurity Expert: Responsible for protecting systems from cyber-attacks – particularly when the attacks are AI-powered
Future Roles for Humans
For this topic, we turned to our audience of executives for a poll to get their thoughts on the greatest need for humans to play a bigger role as AI disrupts the traditional market. And, based on what we've previously discussed and the results below, it seems that synergy is building in their collective trains of thought: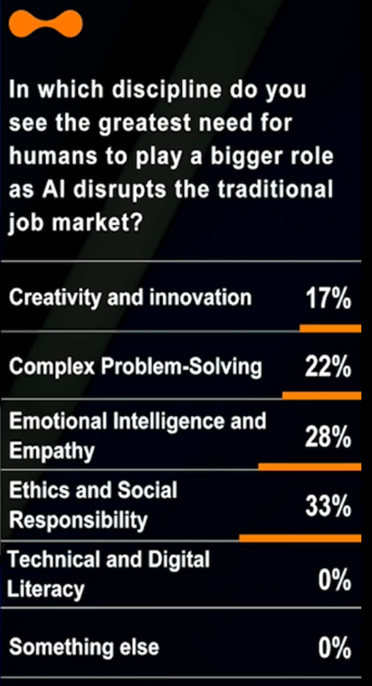 One thing that stands out might be a result of the current socio- and geopolitical mindset, and could very well be a result of the emotional and empathetic aspect of people: 33% of those polled believe humans can be counted on for ethics and social responsibility more than AI.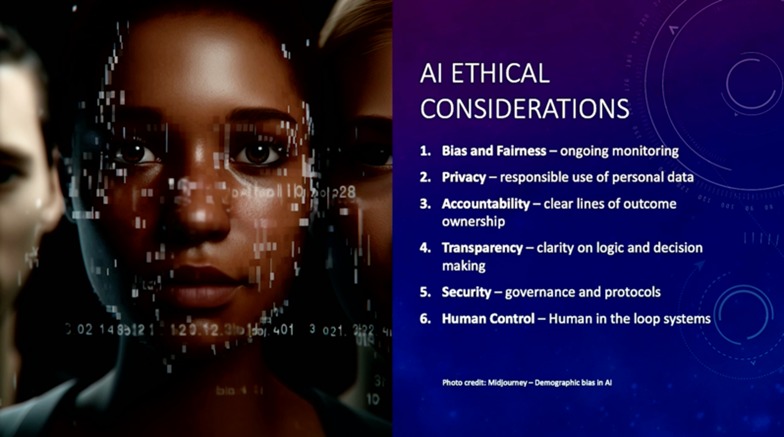 On the flip side, it's fascinating to note that these same executives are 100% willing to let AI take the reins on technical and digital literacy. This shows that the acceptance of AI's role is assuredly growing.
In Conclusion: How AI Could Change the Job Market…and How to Adapt
At the end of the day, AI isn't going anywhere. It's changing the workplace, which means it's up to humans to adapt and stay relevant. Furthermore, based on a recent PwC study, AI will create as many jobs as it will displace – but that will vary by industry and discipline: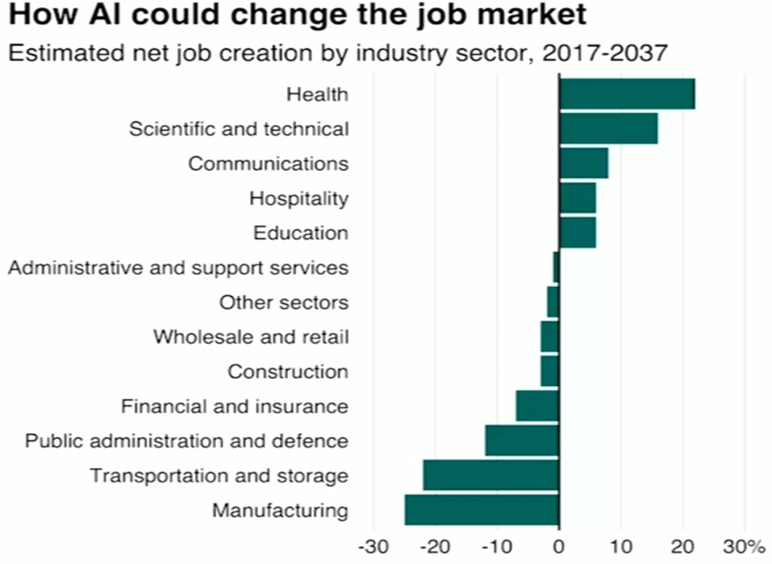 And so, as Daneyal so succinctly taught us, the best ways for organizations to prepare for this future are in education, upskilling, and opportunities to enhance existing roles with AI use. In his own words, "science fiction is now here. A lot of the things that used to be tough to do, such as content creation and automation, AI has made very much possible – and has given humans more time on more advanced problems and to focus on things that we really want to work on rather than admin and day-to-day things that bog us down."
Now it's up to us to prepare and adapt for a future that, in the end, is fast becoming a reality – one that we ultimately need to embrace.
GDS Summits are tailored 3-day virtual event conferences that bring together business leaders and solution providers to accelerate sales cycles, industry conversations, and outcomes.
Continue the debate at GDS' Data & Analytics Summits where we bring together senior data executives who are actively seeking to share, learn, engage, and find the best solutions.  Apply to Attend
For more, click here to hear from attendees on how GDS has helped them to achieve their business outcomes.
Back to insights