Skillsets, transformation, talent gaps, resources – all major challenges for security professionals. This was discovered in several polls launched during last year's global GDS Security Summits. What are the noteworthy trends in North America vs. Europe and what do they mean for the future? Furthermore, what is influencing these trends? The following is an analysis of four of our most pertinent poll questions and what they reflect in the ever-changing landscape for security professionals.
In brief:
Which skills security professionals would like to strengthen
Cultural barriers to innovation & transformation
Biggest talent gap concerns
What security trends mean for 2024
Which skills security professionals would like to strengthen
Skillsets have been top of mind across all industries, especially as we battle the talent crisis while adapting to the latest technological advances. So, when we asked our summit audiences about which skill they'd like to strengthen over the next year, we wanted to make sure we gave options that covered the entire security space – from data to cybersecurity.

A chronological look at poll results from October 2022 through June 2023, GDS Security Summits
We uncovered professionals in North America are consistently focused on cloud security with a keen eye on governance/risk management. In December 2022 the secondary focus was on threat intelligence. The reason for this caveat may be the direct result of ChatGPT, which raised red flags on how cyber criminals might use this new technology. However, the ongoing focus on cloud security speaks volumes about where security professionals are in their digital transformation journeys, with many adapting to the cloud.
In February of 2023, GDS Group asked professionals in Europe the same question. The results revealed that security executives are more focused on DevSecOps, which shows that they are taking a more holistic approach to their skillsets with regards to cybersecurity.
Honorable Mention: Threat intelligence and the slow rise of digital forensics may very well continue trending upwards as AI implementation and upskilling continue.
Combined average totals:
Data science 11%
Threat intelligence 16%
Digital forensics 8%
Governance/risk management 24%
Cloud security 26%
DevSecOps 15%
Barriers to innovation & transformation
As digital transformation efforts continue, so do the challenges associated with their massive undertakings. For those in their early stages, getting C-level buy-in and overcoming legacy systems were common roadblocks. However, as transformation efforts continue to mature, a whole new barrier presented itself. Our data proved that the biggest cultural barrier to innovation, regardless of location, is resistance to change.

What's 'legacy mindset'?
Legacy mindset is a barrier that exists for several reasons. First, is the generation gap between the tech-savvy Millennials and the analog stylings of Baby Boomers. These younger generations grew up with laptops, tablets, smartphones, and an intrinsic acceptance for artificial intelligence (AI). The next reason pertains mostly to the older generations who not only fear change but believe that AI and technological innovations will replace them. In the meantime, security professionals are tasked with finding ways to assure staff that technology will be adapted to support the workforce.
Combined average totals:
Resistance to change 57%
Collaboration 11%
Ability to scale 10%
C-level buy-in 8%
Psychological safety 7%
Something else 7%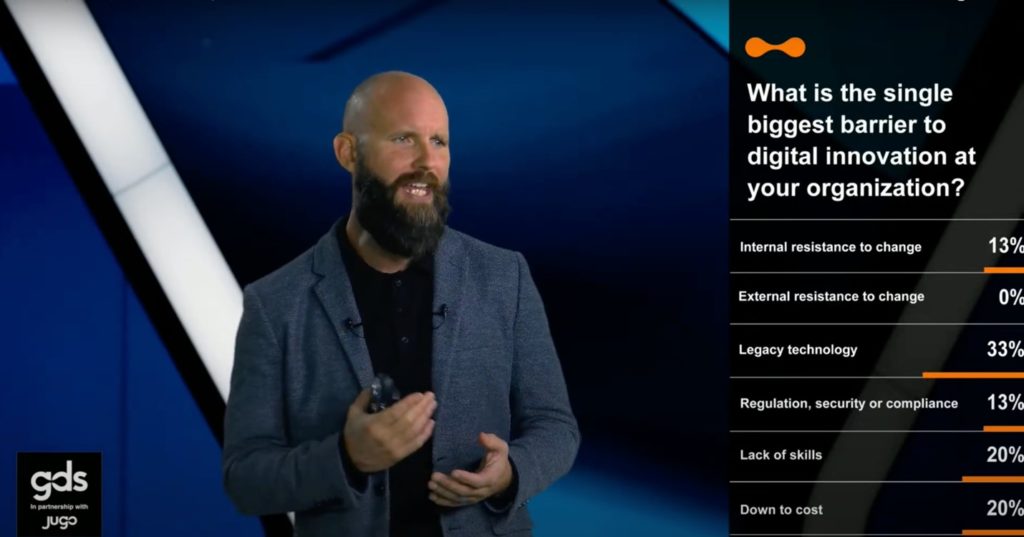 Host Ben Thompson looks at the results from a GDS Security Summit poll on barriers to innovation
Biggest talent gap concerns


The talent gap and skills shortage are major barriers. According to our data, European professionals expressed concerns over talent capabilities while North Americans are simply trying to get their teams to capacity. What this tells us is that there either needs to be greater internal upskilling programs or a willingness by the C-Suite to invest in the right talent.
Combined average totals:
Capability 41%
Capacity 31%
Diversity 8%
Affordability 14%
Stickability 6%
Security team resource changes

Lastly, we asked our global audiences, "how do you see your security team resources changing over the next year?" Answers were unanimous. Global security execs believe there will be at least a slight increase. On the contrary, our audience from North America in June seemed to believe that these resources are starting to decline. Why? Perhaps the increased spend on AI, Machine Learning (ML), and other tech advances as organizations look to augment security teams with non-human counterparts.
Combined average totals:
Significant increase 16%
Slight increase 49%
Little or no increase 24%
Decrease 10%
Significant decrease 1%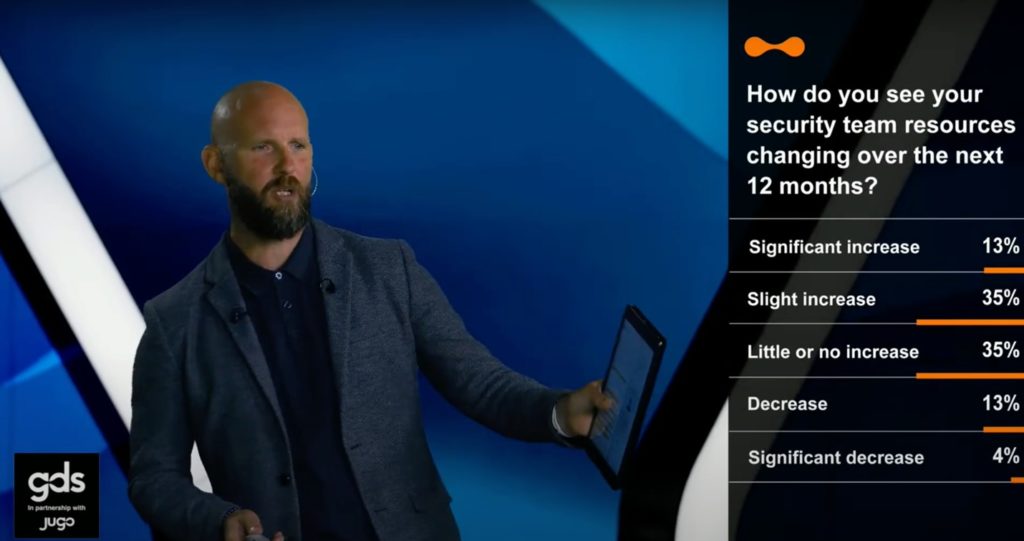 Host Ben Thompson looks at the results from a GDS Security Summit poll on resources
What do these trends mean for 2024
The last several years have taught us that the only certainty is 'uncertainty'. The next great disruption could completely upend the mindsets and priorities of security professionals. However, based on these results from our polls reveal that culture and buy-in are the biggest roadblocks, while the battle for talent and skills continues to wage well into 2024.
Compared with external studies, our findings seem to align quite well:
Join our next GDS Security Summit and be a part of the conversation!
GDS Summits are tailored 3-day virtual event conferences that bring together business leaders and solution providers to accelerate sales cycles, industry conversations and outcomes. Regarding the Security Digital Summits 88% of Solution Providers said the overall experience of the Digital Summit they attended was Above Average or Excellent and 88% of Solution Providers said they would be interested in sponsoring future events.
For more, click here to hear from attendees on how GDS has helped them to achieve their business outcomes.
Continue the debate at GDS' Security Digital Summits where we bring together senior security executives who are actively seeking to share, learn, engage, and find the best solutions.
Back to insights