"You can't force culture, you can't force diversity, you can't force it to happen. You can have intention but you have to build that intention and see it come to fruition." – Nancy Brooks, Vice President, National Accounts Foodservice Management, Sysco
'The Great Resignation' has become something of a buzzword in recent months and for good reason. During 2021, it's estimated that 38 million Americans left their jobs, with around 4.4 million leaving during September alone. Our relationship with work has changed and as such, leaders need to reassess what this means for their employees. As such, The Great Resignation will be one of 2022's most significant business challenges but what does this mean for Sales?
If – as HubSpot suggest – the average tenure for sales representatives sits at around 18 months, it's not all goods news. Indicative of its inability to provide meaningful onboarding and retention plans, sales simply doesn't do enough for staff. If we are to combat this negative trend then, we need to invest more in our people and quickly. We must guarantee that our regressive past doesn't define the future of sales, and this formed the focus of GDS' recent RevGen Digital Summit.
Curating Sales Culture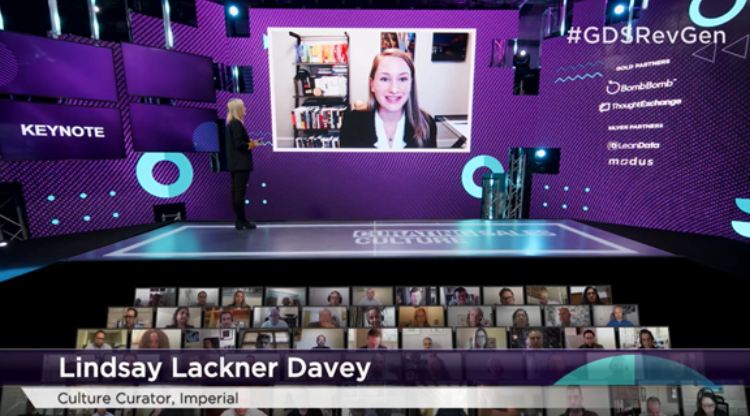 Culture in our organizations is something that we implicitly understand but rarely effectively address. The same is true in sales. Changing the culture of a sales division is an often intangible, seemingly insurmountable task as no one wants to bite the hand that feeds. Consequently, we don't experiment where we ought to or as much as we need to. Instead we're caught in the weeds, wondering how it's possible to improve the interactions that sales staff have with one another in the day-to-day.
For Lindsay Lackner Davey – Culture Curator at Imperial Oil – addressing these cultural concerns is vital but rarely easy. As she established, when altering the culture in any sense, "you're a guide. You're trying to help people along. You're trying to define the how, whilst helping staff to see the what, you're meant to be a conduit for other people's stories".
For the CSO struggling to implement a robust sales culture, this process may seem arduous but it's a matter of approach. The truth is, culture is intangible and this is why many businesses find it difficult to grasp but as Lindsay suggests, "where culture lives and breathes, what defines it is really in the millions of little interactions that we have with each other on a daily basis." Resultingly, what we must understand is that culture isn't driven by executive mandate, instead, it's for every employee to set the conditions that allows it to thrive.
As Lindsay puts it, "culture change isn't your typical change management program, it's more akin to a social movement" and we must treat it as such. Only together can we modify the culture in our sales divisions and as Lindsay suggests, "there are generally three areas where you can make change happen. In our practices, beliefs and systems". Essentially, we need to come together in our sales teams to collectively work on our goals and values as, "the only way to understand if your behavior change is working or not is to talk to your employees, to your peers, to your managers."
We need to change our culture, and what we must accept in 2022 is that if we continue to churn through associates, we have failed in our adoption of a positive sales culture. How then, do we build one?
Diversity, Equity & Inclusion in Sales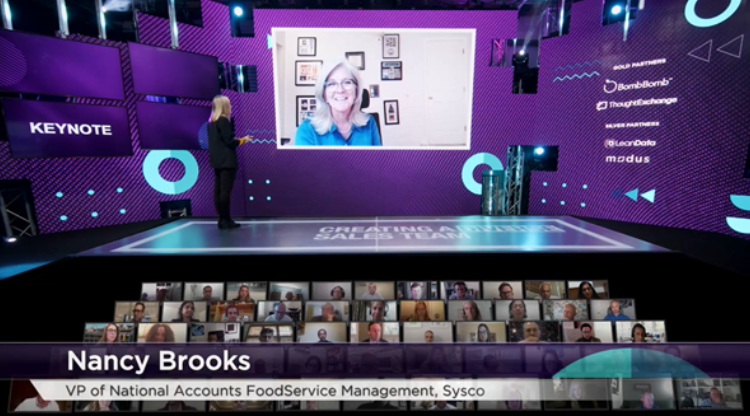 As Lindsay suggested above, revising our beliefs is one of three areas in which we can improve our sales cultures, but how is it best achieved? For Nancy Brooks – Vice President of National Accounts for Foodservice Management at Sysco – its about addressing DE&I.
As we know, there's an ongoing commitment in the corporate world to provide equal opportunities, but sales must sit at the forefront of this. Today, customers demand that the organizations that they purchase from are socially responsible and whether we're sellers in B2B or B2C, it's our job to safeguard this.
To this end, we need to challenge any issues surrounding diversity, equity and inclusion, formulating an actionable strategy for each. First though, we must define them. By Nancy's definition, "diversity is about diverse backgrounds, equity is about making us the best that we can be and inclusion is ensuring that what you have to say and that what you offer is accepted".
We must remember that whilst the attitudes, values and habits that characterize our teams aren't as measurable as other indicators of productivity, this doesn't make them any less important. As such, we need to really define our approach to diversity, equity and inclusion in sales.
Diversity
We need to widen the scope of our belief to embrace diversity of thought. As Nancy suggested, "diversity of thought is what ensures a team is diverse. This means different backgrounds, different cultures, different genders and preferences". Broadening perspectives is something that all executives must manage, but it's vital we realize it in sales.
Equity
We also need to guarantee that everyone is afforded the same opportunities in work, this is where equity comes in. As Nancy established, "equity means making every individual on your team the best that they can be." We should always be looking for ways to build our associates up.
Inclusion
We must include everyone if our sales culture and organizations are to improve, and this can only be achieved via inclusion. According to Nancy, "inclusion is truly about using your voice, not just to speak up," but to contribute your opinion and have it heard.
Ultimately, we will stumble in the pursuit of each of these objectives but if we create an environment committed to open conversation, we can learn from our mistakes in this field. As Nancy put it, "you can't force culture, you can't force diversity, you can't force it to happen. You can have intention but you have to build that intention and see it come to fruition," over time.
Building a Modern Sales Team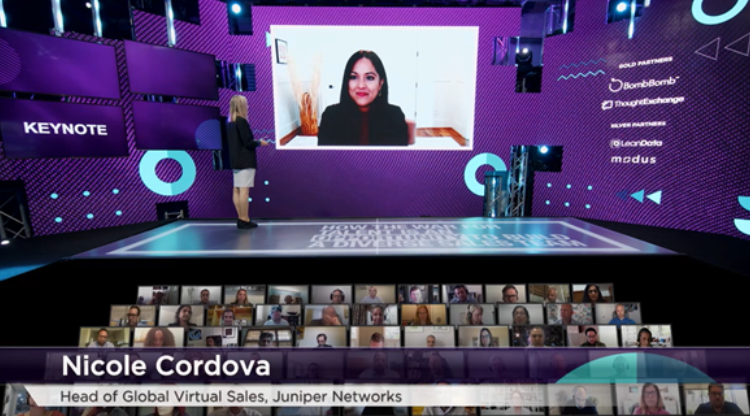 We're living in unprecedented times and accordingly, individuals have been given the opportunity to reflect, recalibrate, and reset both personally and at work. The Great Resignation has put talent in the driver's seat, such that employees have greater say over who they work for and the companies they buy from. Employers do not spend enough time creating a space or culture that works for their staff, but it's something that Nicole Cordova – Head of Global Virtual Sales for Juniper Networks – plans to solve by building more diverse sales teams.
Beginning her keynote, Nicole was keen to stress that, "change is an ongoing cycle", but that "diversity in organizations is built not just from the bottom up and from recruiting but from the top down and inside out".  With this in mind, "it's important that we look at the three C's of building a modern team. In short, we must Confront realityas it is today, Curate feedback from our teams and meaningfully Commit to change."
Confronting Reality
In Nicole's words, confronting reality is "about taking the blindfold off, looking at the real data of the current state of your organization and understanding where you have those gaps between where you are today and what you need to do differently to achieve full spectrum."
Curating Feedback
We much reach out to employees and get their feedback on areas of improvement. As part of this, we need to start asking difficult questions to realize meaningful results, questions like, "Are your employees able to sleep at night? Do they have a balance that allows them to get the rest that they need to be fully formed human beings?"
Committing to Change
We need to collectively agree on what good looks like for diversity. We need to set targets for what we want to achieve and be bullish in pursuit of them. It's worth noting though that, "committing to change doesn't mean that you have to have all of the answers right now, it just means that you have to take ownership of the outcome."
By committing to each of these steps, you will be well placed to build the modern sales team. Ultimately though, the most important question that you need to ask to put yourself on the path to building such a team is, "are your employees able to fulfill their full potential as human beings?" If the answer to this question is anything other than "yes", it's time to alter your approach.
Embracing Hybrid Sales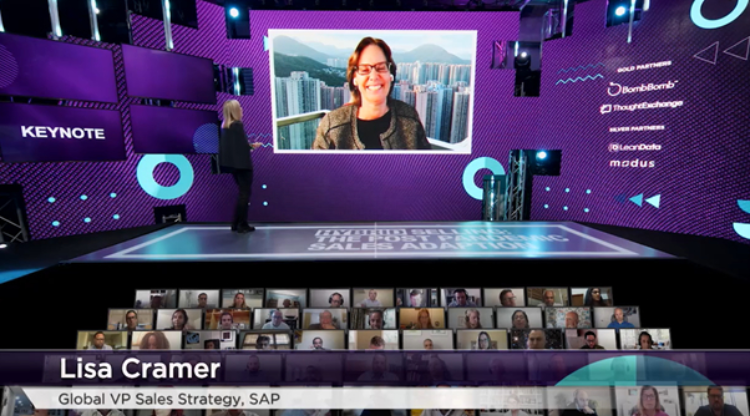 The Great Resignation rocked sales but – as we've seen – we're taking the necessary steps to transform from the ground up. There is however, one final lesson the pandemic has taught us that will be crucial to future success. Over the past two years, sales staff the world over have had to embrace a hybrid model and for many it's been a success. For Lisa Cramer – Global VP of Sales Strategy at SAP – there is immense value to be found in its adoption, but with some caveats.
Although commonplace in 2022, there's still a general excitement surrounding the notion of hybrid work. As an example, Accenture recently reported that 83% of 9,000 surveyed workers preferred a hybrid model . Meanwhile, Microsoft have found that 70% of workers want these options to continue. The truth is, salespeople don't have to be in the office to be successful, or as Lisa put it, "salespeople can be very effective digitally, you just need to set expectations" as a leader.
Thankfully, due to The Great Resignation, "the whole sales leadership world has changed for the better," and this has led to a widening acceptance of this model. Out of this, we've come to realize that effective adoption of the hybrid model isn't just down to employee productivity. Rather, there are several actions we can take today to grow our teams whether they're working in office or remote.
Leadership
Leaders drive change from the top down and this will be critical not just to buy-in on hybrid, but also its success. As Lisa put it, "one of the first things we suggest is that when new sales leaders come into a new team, they set the parameters of their coaching, culture and style of leadership". As long as employees know what direction they're pulling in, they can deliver to it regardless of location.
Communication
Consistent communication is critical for staff wherever they are, particularly for those who are young in the organization. As Lisa suggested, "it's really important for us to step back and make sure that younger talent, whether sales people or sales leaders understand the nuances and dynamics", in our organizations.
Sales & Marketing Cohesion
We tend to separate Sales and Marketing teams within our organizations, but we must encourage greater cohesion in this new hybrid world. As Lisa pointed out "the more connected an organization is between sales and marketing, the more successful they are." For too long, we've put sales and marketing in direct competition, but by playing to the strengths of both, we can realize heightened success post-pandemic.
If sales is about "keeping the customer at the center of what you do" and this is something that we can achieve in office or when working remotely but only if the right thinking is in place. By attending to each of Lisa's tips we can adopt an approach that also works in harmony with any contemporary cultural concerns.
Responding to The Great Resignation: How will we deliver the Future of Sales?
Covid-19 and the resulting Great Resignation forced a necessary step change in our thinking. Naturally then, in 2022, we owe it to ourselves to build a more compassionate, forward-thinking sales division. Thanks to the work of industry leaders worldwide, it's a future we're on track to deliver. Increasingly, the way that we treat our employees will be a matter of competitive differentiation; how we respond now, will define our success in the immediate future.
GDS Summits are tailored 3-day virtual events. In them, bring together business leaders and solution providers to accelerate sales cycles, industry conversations and outcomes. Regarding the RevGen Digital Summits 100% of Delegates said their overall experience was Above Average or Excellent. 100% of Delegates said the Digital Summit provided them with actionable outcomes to support their current initiatives.​
For more, click here to hear from attendees on how GDS has helped them to achieve their business outcomes.
Continue the debate at GDS' RevGen Digital Summit. Only we bring together senior sales executives who are actively seeking to share, learn, engage, and find the best solutions.
Back to insights