In brief
60% of senior executives cited developing a brand strategy as one of their top challenges
Brand strategy remains the number one priority in 2023 for 37% of marketing leaders
69% of marketing projects identified during our recent CMO Summit relate to brand
North America saw an increase of 18% in marketing budgets allocated to brand
Content marketing increases in value with 28% of marketing projects focused on content creation and production
As the marketing landscape continues to shift and change at an unprecedented pace, the role of Chief Marketing Officer (CMO) has evolved from being seen as a cost center to being a growth driver – Rosa Jia, Head of Growth Marketing at Amazon, speaks to this during our recent North America CMO Summit.
In order to stay ahead of the curve and maintain a competitive edge, CMOs must be able to adapt to new challenges and opportunities with lightning-fast speed.
At our CMO Summit event experiences, we've had the privilege of hearing directly from industry leaders about their top priorities and concerns in the years to come. Through these conversations and insights, we've identified the key areas that marketing leaders, including CMOs, are focusing on to succeed in 2023 and beyond.
From harnessing the power of data and analytics to building dynamic and engaging customer experiences, our research shows that successful CMOs will need to be agile, innovative and relentlessly focused on delivering measurable results. With the right strategies, tools and mindset, today's marketing leaders can rise to the challenges of a rapidly evolving market and achieve their goals for growth and success.
1. Developing effective brand strategies
First on the list is having a solid brand strategy in place, with 37% putting this as their number one priority this year. Without a strategy, your brand is going nowhere. Insights from our CMO Summits show that 60% of attendees cited developing a brand strategy as one of their top challenges.
Brand strategy is a broad topic, but at the heart of it, it's about defining the direction for your brand, which should align to your business strategy.
A great reference is Simon Sinek's Golden Circle brand strategy model, the 'why' of your brand is your purpose – the driving force behind your business. The 'how' of your brand – also known as your company mission – is how you achieve your purpose. This is what sets you apart from other brands. The 'what' of your brand is to do with your positioning in the market and the value you provide (more on this later).
It can be easy to get caught up in the excitement of creating new products or services and diving straight into the marketing. But the truth is, starting with a strong brand strategy, with customer success at the core, is the foundation for your marketing efforts.
It's evident though that senior marketing leaders have recognized the value in investing in brand to get it right, with attendees at our recent CMO Summit allocating $6 million worth of spend to brand this year.
2. Enhancing brand engagement
Second is brand engagement, with 32% citing this during our recent CMO Summit in North America.
You might be wondering what the difference is between brand engagement and brand strategy (above). Brand engagement is about creating emotional connections with your customers, it's the reason why you exist and why customers engage with you. Whereas brand strategy is about what your brand does and how it does it.
With this in mind, getting close and personal to your audience is essential. Businesses have a tough role to play in fighting for that space in their customers' hearts in the first place, while maintaining their spot with valuable and reliable connections. Moreover, people are more conscious of the brands they associate with from an environmental and societal perspective.
"Cultivating a strong emotional connection with your customers is key to building a loyal customer base. Your brand's existence depends on it. It's what motivates your customers to choose you over everyone else."
Evelyn Truter, Chief Marketing Officer, GDS Group
With so much competition out there, it's never been more important to make sure your brand stands out. By gearing your brand towards developing a user experience (UX) that forms an emotional connection, you are directly appealing to your audience's needs and enhancing your brand engagement.
We continue to hear that marketers are expected to do more with less and our findings support this. Our research shows a correlation between priorities and challenges of senior marketing leaders and marketing budget allocated to brand in recent years.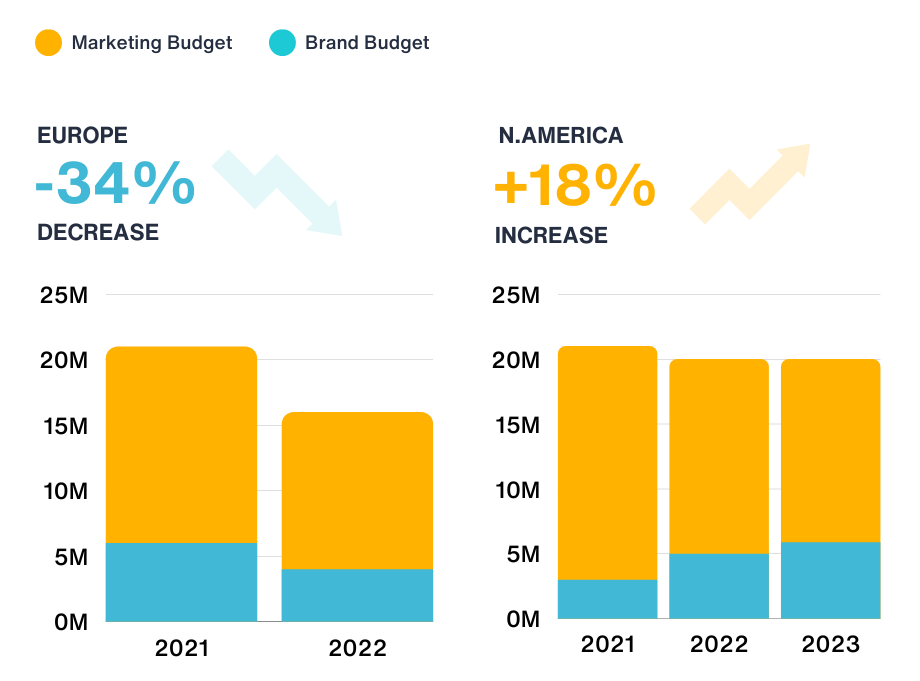 Not surprisingly, Europe saw a decline of 34% in spend on brand between 2021 and 2022. The economy in Europe has taken slightly longer to bounce back after the pandemic, thus impacting businesses, budgets and spending.
Our insight shows that a decline in spend on brand is likely due to some B2B businesses not having the expertise in-house to build an engaging brand story that delivers customer value. Further insights will be revealed following our next European CMO Summit.
Interestingly, our insights painted a different picture in North America – where we saw an increase of 18% in budget allocated to brand which is a direct result of recognizing the influence brand has on the buyer's journey.
3. Streamlining content creation and production
Finally, content creation and production, with 28% of marketing leaders citing this as a priority this year. Content marketing is key to attracting and converting. When executed correctly, it's arguably one of the most effective marketing tactics out there.
Ultimately, content marketing will attract and retain customers, build brand awareness, position you as a thought leader and drive revenue growth. The problem is content production is also often the biggest challenge from a creation, relevance and cost point of view.
With so many channels to manage, it can be easy to get overwhelmed when planning to create relevant and personalized content. Brands are also creating so much content today that users just don't have time for anything that is too complicated to digest.
So, when we delved a little deeper into the reason why content creation and production is a top priority for senior marketers, our insights revealed a number of recurring challenges:
"Having the resource internally"
"Getting your content seen in a saturated environment"
"Creating engaging and interesting content"
"Knowing what content will perform well"
"Creating content on a consistent basis that aligns with various brand social media platforms and business priorities"
"Curating enough content lanes so that we can personalize our approach"
Time and time again, we hear the challenge of resource and time. By streamlining content creation, you'll not only be more efficient, you'll also free-up time to focus on optimizing your most successful channels.
From our data and insight, it is clear that senior marketing executives are focused on content and they are choosing to focus their energy and investment on it in 2023.
Stay tuned for more exclusive insights from our event experiences to help you stay ahead of the curve.
Survey demographics
This infographic is based on the data collected from our CMO and CX Innovation Summits across Europe and North America between 2021 and 2023. This includes 712 senior marketing professionals from large enterprise businesses of 1000+ employees.
At GDS, we are a global B2B solution provider, specializing in helping businesses connect with their desired audiences to drive higher return on expectations for pipeline growth and transformation.
With 30 years of expertise, we've become our clients' pipeline partner, providing real-life, real-time insights through innovative virtual and face-to-face environments.
Download infographic: The shift in marketing focus
Download our latest infographic to explore how marketing budgets have shifted, where the biggest challenges are and what we foresee in 2023.
Back to insights