Todd Unger of the American Medical Association shares insights on the intersection of market, product, commerce, and service, emphasizing the need for actionable and fundable CX programs to drive organizational growth, revealing the evolving role of CXO and the importance of defining the "X" in Customer Experience.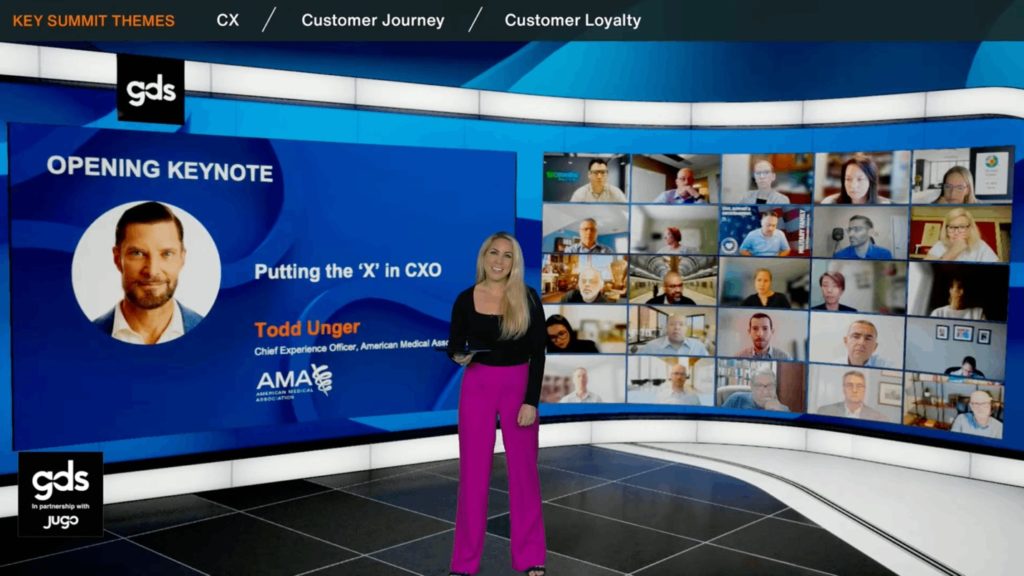 Host Kristina Cartwright speaks with Todd Unger, CXO of the American Medical Association
Let's face it: Customer Experience has become paramount to organizational success, so much so that the role of CXO is growing exponentially. After all, the CXO is tasked with all aspects of CX, from initial contact through purchase and beyond – let alone ensuring that every journey matches the company vision, values, and customer commitments. But what does this role look like in 2023 and beyond? In our recent GDS CX Summit, we turned to Todd Unger, CXO for the American Medical Association, to find out not only why it's important to define the "X" in CXO, but how it came to be.
Table of contents:
In the beginning…
When you look at the origins of CX, it's a relatively new concept. It was once dictated by marketing teams tasked with predicting what customers wanted and, in many cases, assuming they knew best. But they did grow out of life experiences and sensory cues that you get from how customers interact with your brand. But now the major question has become: What happens when that interaction is digital and fast-paced? Furthermore, how does this translate to the role of the CXO?
Customers have a very different sense of expectations these days, and that has changed the name of the game. According to Todd, the answer lies in "bringing together the cornerstones of CX: Market, Product, Commerce, and Service, which, in turn, is the foundation of what it means to put the X in CXO." What this means is that the intersection of X is the customer and your organization, because the CXO role is morphing. It's not the same for every organization – it's based on size and customer need. Part of it is marketing, but a lot of it is making sure it's fundable and provides the necessary results for the customer.
"In reflection," Todd adds, "it really is about the seamless integration of these 4 cornerstones." But as a CXO, the intersection and implementation of these 4 aspects in various aspects of organizational growth goals really helped Todd define the role of the CXO. It also helps define "good CX."
What is 'good CX'?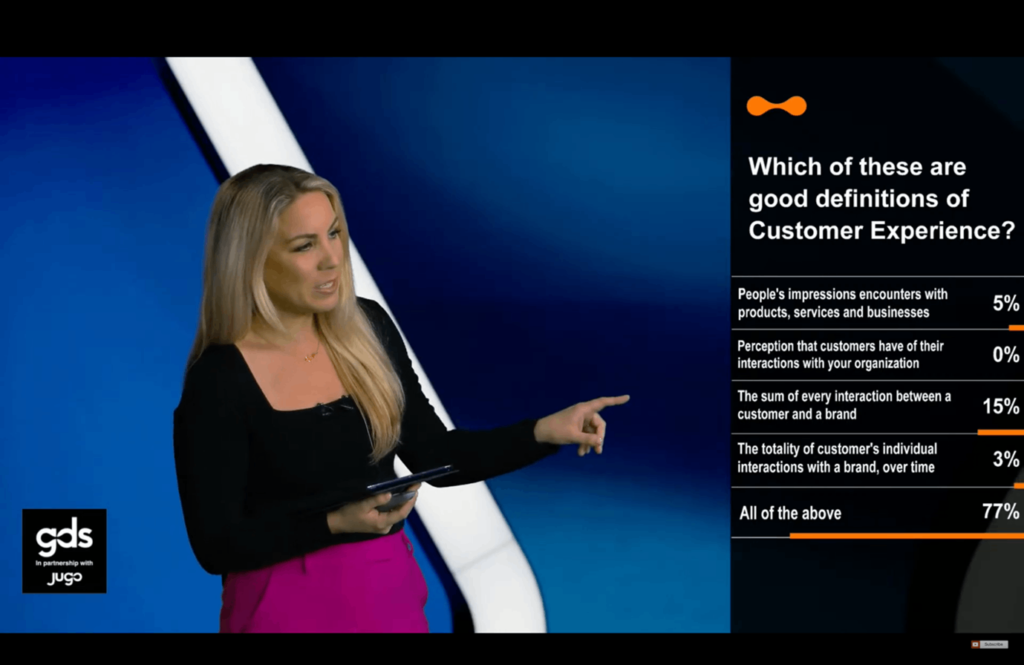 Kristina Cartwright examines the results of an audience poll
In an audience poll, we asked "Which of these are good definitions of Customer Experience?" The options were:
People's impressions/encounters with products, services, and business
Perception that customers have of their organizations
The sum of every interaction between a customer and a brand
The totality of a customer's individual interactions with a brand, over time
All of the above
By no surprise, an overwhelming 77% of respondents agreed that the definition encompassed all of the above. According to Todd, "these are definitions that leaders in the development of CX have put out there, so they all make sense. But how helpful are these definitions with what you do when they kind of mean everything?" In essence, this means it's not so much about the definition of CX, as it is universally known and understood. Instead, the question then becomes…
Who is responsible for is 'good CX' and the efforts needed for success?
"Cars don't run on feelings and perceptions, they run on fuel. And that's how business works today – but most of that fuel equates to money."
Todd Unger – CXO for the American Medical Association

The answer is simple in nature but complicated in execution. As Todd shared, "In totality, we have something that is essentially everything and everyone's job. It's not very clear who is supposed to be doing what." In other words, as a paradigm, there's a great body of work that has created the foundation for this arena in terms of 'what am I supposed to do?'
In reflecting upon his own experiences, Todd explains "One of the key things I've learned through this process is that a lot of these definitions are based on feelings and perceptions, and that is a problem in today's environment," adding, "this is not to say that this isn't important, but, as I tell my teams, cars don't run on feelings and perceptions, they run on fuel. That's how business works today – but most of that fuel equates to money. And, if you want to get investment in your CX programs, you need to prove that they're going to provide growth – not just in meaning, but in organizational growth as well.
In essence, to make this happen, actionability and fundability are key. This means having business cases that resonate with executives and C-Suite, which is a massive challenge across all businesses. So, what are some use cases where this works?
According to Mr. Unger, it all comes down to growth: "You need to start digitally, which requires tremendous investments in both digital platforms and creating the teams to execute. Then it comes down to monitoring what works and what doesn't – what drives growth. Building off smaller wins and proving to the C-Suite that the programs in place are building that growth. This means having CX align with marketing. They'd be vying for funding on their own if they did it alone. The integration of the two becomes integral.
What it means to put the 'X' in 'CX'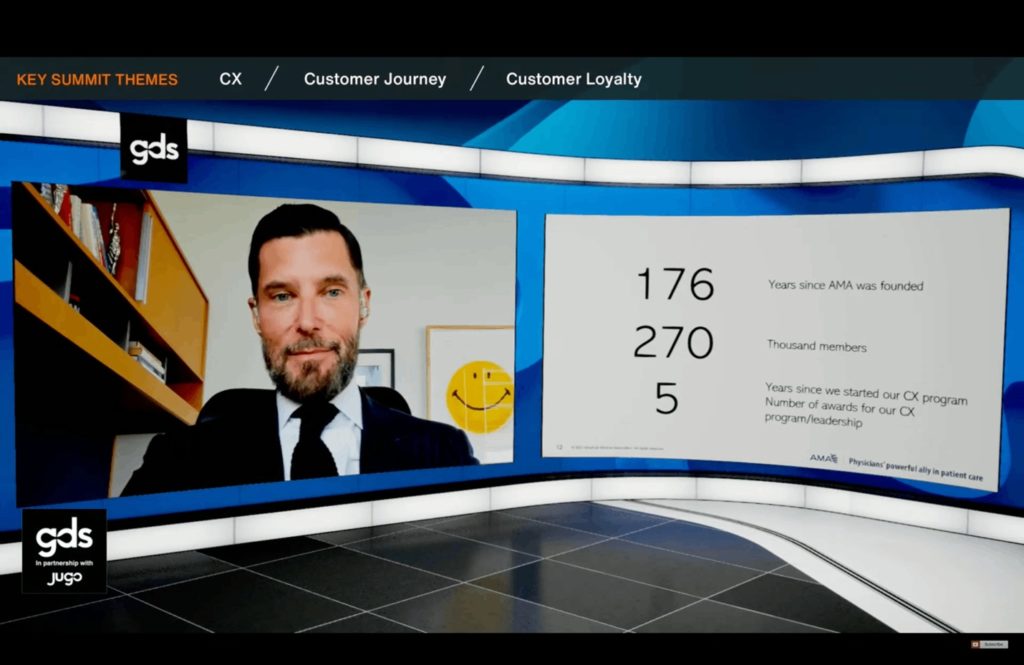 American Medical Association CXO Todd Unger 
Hindsight is always 20/20 and, looking back, Todd would have focused less on the CX and more on the X. Why? Because that definition is unclear. "Focusing on the totality of things is a big job," said Mr. Unger, continuing, "Live experiences and cues with your brand are now digital. Customers have very different expectations between live and digital, which I call the '10 second customer journey' which means you have a short time to unite the aforementioned four cornerstones. It used to be called the "Marketing Funnel" but is now the "Tornado Funnel". From a customer's perspective, think about how fast you think about something into how fast you want it – and that's the heart of the CXO. Customers approach the journey as "I search for it, I want it, I love it, I buy it." Or, as Todd put it, "We don't operate in a world where people tiptoe…they know what they want and go right for it." 
Conclusion
By now you might be wondering what a successful "X" looks like, and how it's measured. From Todd's presentation, we ascertained that it's not just customer growth and retention; it's a matter of breaking it down to measurement and maturation, separately. As Todd succinctly put it, "the best ways to express measurement are to provide ways of what you're supposed to do – benchmarks such as friction measures, interactions with certain products and functions, and the problems that might arise when things go awry." And, from Todd's personal experience, he shared, "we went from fixing problems to fixing the root of the problem. We positioned it as a service that we can provide to give them growth at their organizations. We then look at measurement models and make it part of the business process."  
In short, slam dunks for CX include understanding the customer in the early stages that people tend to gloss over. You can't just jump ahead and think you know what they want. You need to know that customer from the get-go and get those early wins, then build from there and put points on the board to achieve funding and advancement. You really need to know the X before you build the CX, and this is the backbone of putting the X in CXO. 
---
Looking for ways to accelerate your sales cycles, engage in industry conversations, and achieve better outcomes? Look no further than our Summits – our unique 3-day digital event experiences that bring together senior executives and solution providers. 
Partnering with GDS Group can help you get in front of the right people at the right time. 
Don't miss out on the opportunity to attend one of our unforgettable event experiences that promise to leave you feeling inspired and empowered. 
Check our calendar now and join us. We can't wait to see you there! 
Back to insights