The past five years have been marred by disruption, forcing us to reconsider many of our fundamental assumptions, including those around health and safety. Amid a pandemic, political upheaval, generational change, and a host of emerging issues have risen to the forefront, such as sustainability and environment, social and governance (ESG), the way we consider health and safety must be repositioned to address these seismic changes.
At our our HSE Insight North America Summit, John Dony, VP of Workplace Strategy at The National Safety Council, shared new research on how health and safety leaders can respond to this ever-changing landscape, which we will explore in this article.
In brief:
The world of work has experienced significant changes, including the pandemic, political shifts, and emerging concerns like sustainability and ESG.
Health and safety leaders must adapt to these changes and reposition health and safety practices accordingly.
The National Safety Council has identified three areas of change: work modalities, worker expectations, and work enablers.
85% of health and safety functions are involved in ESG strategy execution, but only 16% have decision-making roles.
The National Safety Council suggests five ways for health and safety to engage in the ESG conversation.
The future of the workplace revolves around health and safety, human and organizational performance, ESG, and total worker health.
Key themes influencing health and safety include DEI, environment and sustainability, ethics and governance, psychological safety, serious injuries and fatalities, and mental health.
The National Safety Council has worked to mitigate injury and death for millions of workers for over 100 years. Their injury fact base is vast and has been continually updated with the latest analysis from 1921 until today, to help us understand where workplace injuries and deaths are occurring, what the macro trends are, and how organizations can anticipate what's coming next.
"COVID-19 provided a mandate for us to bring the future of the world of work into sharp focus,"
John Dony, VP of Workplace Strategy at The National Safety Council
"We're still in the mid-to-long game of that change discussion. Some things have stuck around: remote working, the workload, the expectations of health and safety – and lots has motivated us to dive deeper on this."
As a result, the National Safety Council identified three key areas of change within the world of work:
Work modalities: where and how we work, our schedules, how often we travel and how we engage with others externally.
Worker expectations: an increased need for communication, a newfound focus on stress and mental health, and visibility of benefits and access.
Work enablers: health and safety are in the spotlight, teams are now cross-functional and technology, namely mobile, video, automation and wearables are driving how we operate.
As part of this research, they acknowledged eight trends for the future of work.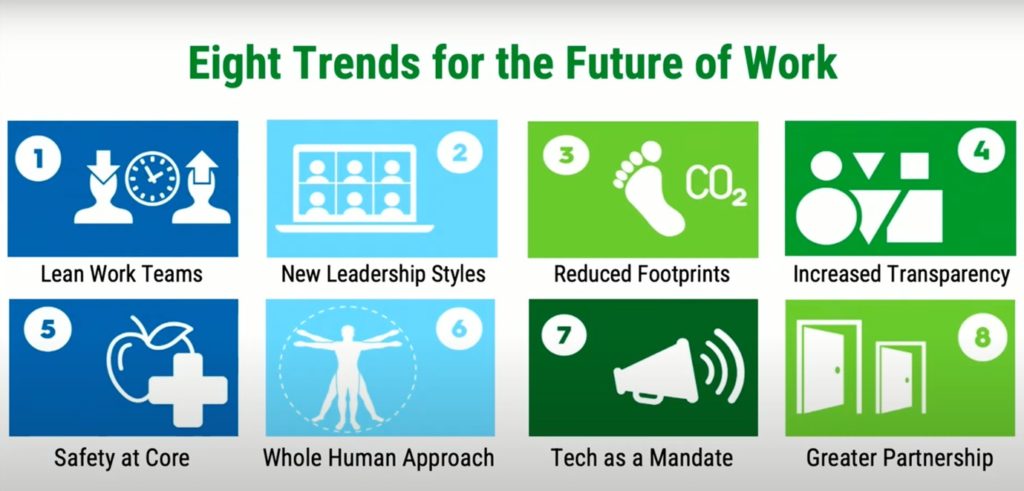 And of those trends, all of which are pertinent to the modern workplace, the intersection between health and safety and ESG requires careful consideration. "While ESG isn't a new topic, it has come into focus over the past few years, whether it's from a portfolio diversification standpoint, whether health and safety teams are considering how to navigate it, or whether it's an ESG practitioner trying to execute these principles successfully," remarks Dony. "The early day efforts on corporate social responsibility did span a lot of it, but they didn't explore the ethics and compliance area." 
And in fact, the National Safety Council's 2014 research showed early reactions to ESG were couched with negativity. Responses included: 
"I don't understand why we're talking about this…Where is safety?" 
"Sustainability is a buzzword and has taken away from our focus on core safety issues." 
Dony comments: "At the time, other critical initiatives around serious injury and fatalities were more important, leading to organizational splits where HSE practitioners weren't really across ESG initiatives. However, as the world has evolved, health and safety has become a bigger part of the conversation." 
Fast forward to today, there's been an exponential rise in spend and attention on ESG. In 2023, 85% of health and safety functions are involved in the ESG strategy execution [1]. However, breaking that down into roles and responsibilities, only 16% have a decision-making role [1]. "This shows great uptake but isn't such great news when it comes to where we want to be positioned within ESG," summarizes Dony.  
When it comes to data, 71% said health and safety metrics were included within ESG measures and targets, however, the types of metrics used didn't tend to have an accurate bearing on the presence of safety capacity, such as total recordable injury rates. And more tangible metrics, such as the inclusion of action closure rates and safeguarding, were less commonly seen [1].  
That said, Dony sees some promise here: "There is a foot in the door and a position at which to come at this from. That's the good news. We've got some openings but by the same token, there's still a huge amount we don't have capacity to do. We need to acknowledge that, until we can leverage our value, we're going to come across obstacles."  
So, how can health and safety evolve the ESG conversation beyond its traditional remit and apply their knowledge and learnings about people, mental health and well-being and its impact on direct physical safety?  
The National Safety Council has identified five key ways health and safety can enter this conversation: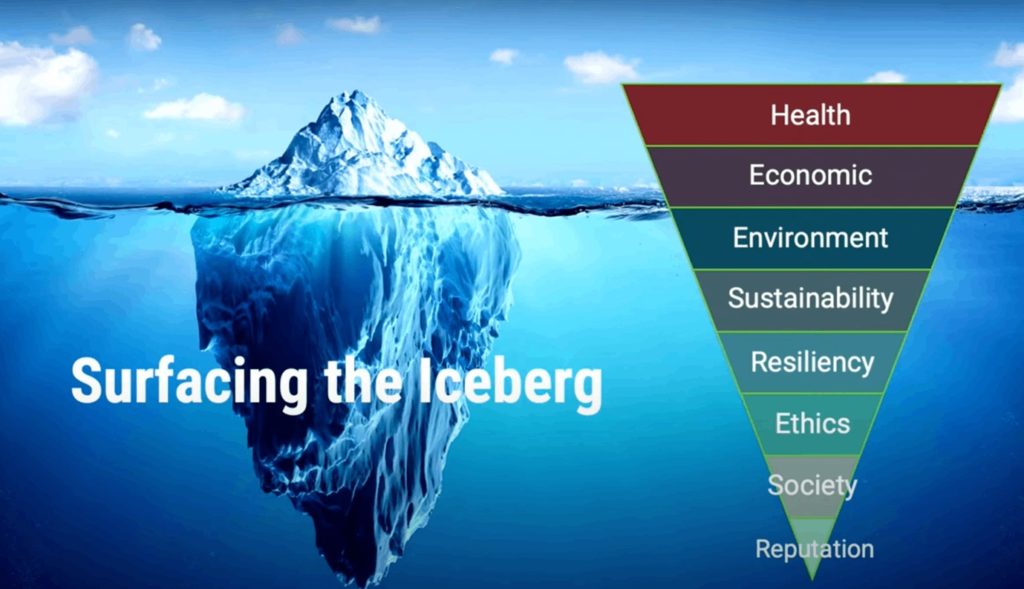 "We need to surface the iceberg and talk about these topics that are hidden beneath – which are typically more difficult to define in dollars and cents," advises Dony. "We want to take this value pyramid and understand how we can go from talking about these things conceptually to handing a piece of paper to a CFO or investor and proving the value of EHS across every topic."
So, what does the future of the workplace look like? Well, it has health and safety at the core, as it's always been, however, tightly wrapped around it is a layer of human and organizational performance. Then applied on top are the two twin poles that are fundamental: ESG and total worker health. And finally, the key themes which simultaneously have an influence on health and safety and vice versa: Diversity, Equity, and Inclusion (DEI), environment and sustainability, ethics and governance, psychological safety, serious injuries and fatalities and mental health.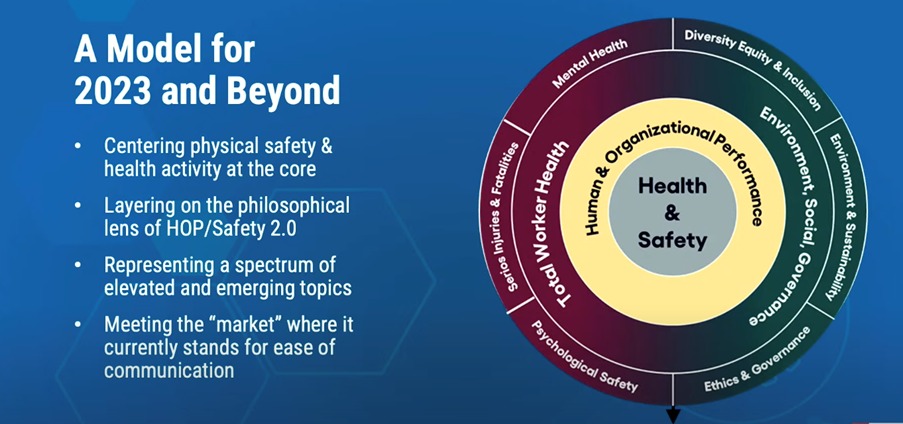 So, how can we make this a reality? Dony shares his final words of advice: "Do you put a value on a human life? No one should do that. We want to steer finance towards a wider view to show the ability of safety capacity and ways to fail safely. We can't do this until we start talking about ourselves differently than we currently have the language to describe.
"The intensity of this will be even greater in the coming years, particularly in the next election cycle. The way we talk about ESG is something all organizations have to think about. If we can refer back to the core things, we know we do really well: keeping people safe and healthy and sending them back to their families in the same or better condition than when they left, we have a great through-lane into this conversation."
The National Safety Council 2023 research will be published this summer. Explore their resources here.
GDS Summits are tailored 3-day virtual event conferences that bring together business leaders and solution providers to accelerate sales cycles, industry conversations and outcomes.
For more, click here to hear from attendees on how GDS has helped them to achieve their business outcomes.
Continue the debate at GDS' HSE Summits where we bring together senior health and safety executives who are actively seeking to share, learn, engage, and find the best solutions.
Back to insights