Exploring the ethical implications of AI integration and the power of the human-AI partnership, we look at the future of AI, addressing concerns and highlighting the transformative potential of responsible development.
Table of contents:
Introduction
The advancements of Artificial Intelligence (AI) have been remarkable in recent years. The pursuit of general AI, capable of emulating human problem-solving abilities is at the forefront of research. However, as AI becomes more integrated into various industries, it raises profound ethical considerations.
AI has become a transformative force, revolutionizing the way we live and work. From chatbots assisting customer service to the potential of general AI, this technology is rapidly permeating every aspect of our lives. The numerous benefits, such as enhanced efficiency and improved decision-making capabilities, need to be weighed against a range of drawbacks and concerns that demand careful examination. Issues like algorithmic bias, privacy breaches, and the potential displacement of human jobs have raised legitimate questions about the responsible development and deployment of AI technologies.
A critical challenge lies in striking a balance between harnessing the power of AI and ensuring human oversight and accountability. Establishing guidelines and regulations that govern the use of AI is essential to safeguarding individuals' rights, preventing discrimination, and maintaining transparency in its implementation. This article aims to delve into the ethical implications of AI, particularly in the context of general AI's role in business and the necessity of the human-AI partnership.
Current state
Use cases
Understanding the potential use cases of AI is equally crucial in addressing the ethical dilemmas associated with it. By exploring real-world scenarios where AI systems have encountered issues, we can better comprehend how these technologies impact society as a whole.
Currently, AI is being utilized for specific use cases, such as chatbots, which are a commonly used application of AI. General AI is still a way off. However, generative AI applications like ChatGPT have been growing in popularity (one of the fastest-growing tech platforms of all time, attracting 100 million users in just two months – over 1 million being amassed in just 5 days, only very recently being overtaken by Instagram Threads which reached more than 100 million users in 5 days).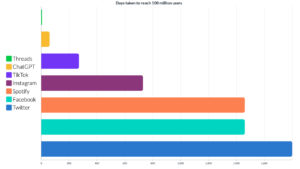 These applications are being used for multiple business purposes, such as the creation of email, sales and social media copy.As of March 2023, in the marketing sector; 44% of marketers said that they used generative artificial intelligence (AI) for the creation of email copy. Another 42% of marketers used this type of software for social media copy purposes. (Source – Statista)
AI use cases continue to expand across different sectors, enabling companies to automate processes such as analyzing X-ray images to predictive analytics in finance and coding.
While AI has made advancements in specific domains, such as image recognition and natural language processing, there are limitations when it comes to understanding and performing any intellectual task humans can do. Therefore, it is essential for us to strike a balance between embracing the potential benefits of AI while also addressing the potential and realized issues.
Vilas Dhar, President at The Patrick J. McGovern Foundation, described AI in its current state as "as an amazing junior colleague, somebody who's just at the start of their career. We can trust them to go out and solve a single well-defined problem and bring us a few options for how we might take next steps."
General AI, on the other hand, he sees as "a senior colleague, somebody to whom we can go and say, 'Here's a problem set. Go and innovate some possible solutions, test them, identify what might work well, and come back with a recommendation that we can deploy at scale across the organization.' It's a difference between being able to do a single task and having responsibility for a business function."
Public opinion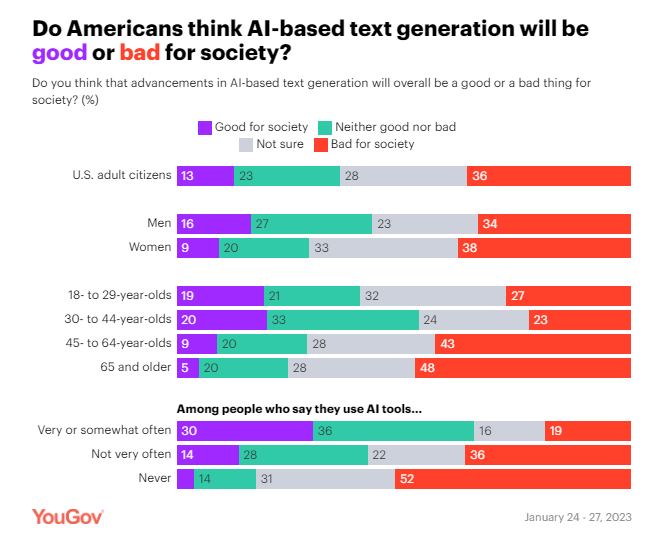 Source – YouGov
Public opinion on AI is a complex and multifaceted topic, with both positive and negative sentiments prevailing. On one hand, many people recognize the numerous benefits that AI brings to businesses and individuals alike. It can automate repetitive tasks, freeing up human resources for more creative and strategic endeavors. Moreover, AI-powered technologies have shown promise in fields such as healthcare, transportation, and finance, where they can improve efficiency and decision-making.
However, there are also valid concerns regarding the integration of AI into our daily lives. People worry about the potential loss of jobs due to automation and fear that AI may replace human workers entirely. Additionally, issues surrounding privacy, data security, and algorithmic bias have raised questions about the ethical implications of relying too heavily on AI systems.
It is crucial to engage in open discussions about these concerns while also highlighting the positive impact that responsible use of AI can have on society. By addressing ethical considerations through transparent practices and regulations, we can foster public trust in AI technology while ensuring that it aligns with our values.
According to the data found by Public First, the UK public's most common emotions expressed were curiosity, excitement, and worry.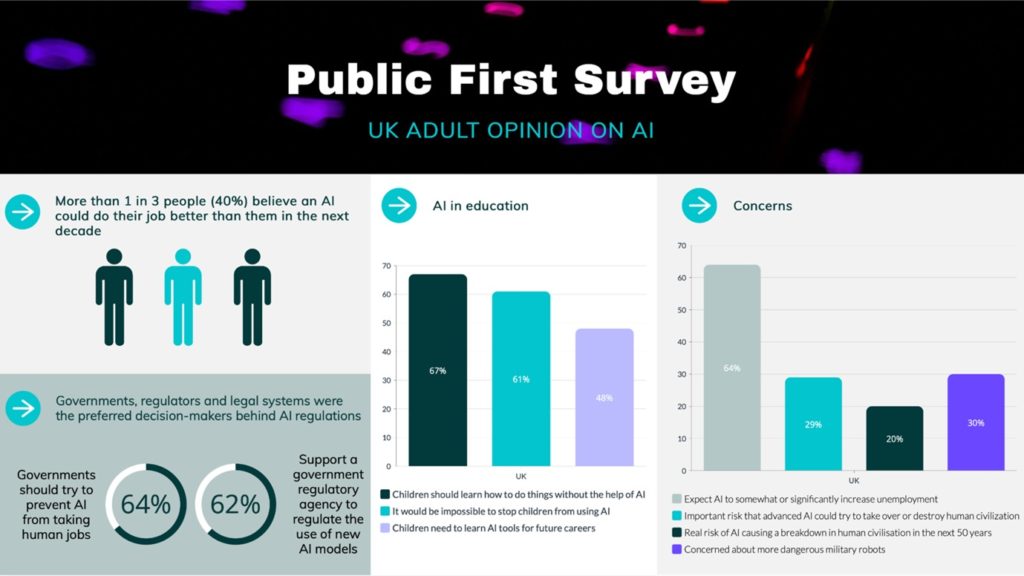 Human-AI partnership
The concept of human-AI partnership has emerged as a powerful and transformative force in various industries. By combining the strengths of both humans and AI, we can achieve remarkable results that neither could accomplish alone.
One area where this partnership is particularly valuable is in the field of AI ethics. As AI becomes more integrated into our daily lives and business operations, it is crucial to ensure that ethical considerations are taken into account. Human experts can provide invaluable guidance and oversight to ensure that AI systems are developed and implemented responsibly.
The benefits of this collaboration extend beyond ethics. AI has the ability to process vast amounts of data quickly and accurately, enabling businesses to make data-driven decisions with greater efficiency. However, it is humans who possess the critical thinking skills necessary to interpret this data in a meaningful way and apply it strategically.
Another aspect where the human-AI partnership shines is in addressing bias within AI systems. Despite their advanced capabilities, AI algorithms can still be influenced by biases present in training data or programming code. By working together with humans who have diverse perspectives and experiences, we can identify and mitigate these biases to create fairer and more inclusive AI systems.
Ethical considerations
The impact of AI can be felt over various aspects of life – even in the Vatican. With the partnership between the Markkula Center for Applied Ethics and the Vatican's Dicastery for Culture and Education, releasing a guidebook on AI ethics – 'Ethics in the Age of Disruptive Technologies: An Operational Roadmap' and IBM developing their fundamental pillars for trustworthy AI, it's clear ethics need to be at the forefront alongside the development of the technology.
A survey of more than 500 senior IT leaders reveals that a majority (67%) are prioritizing generative AI for their business within the next 18 months, with one-third (33%) naming it as a top priority. Despite the interest, most IT leaders have technical and ethical concerns with the technology that could impact its adoption in the coming year.
One of the foremost ethical concerns in AI is the issue of bias. AIs learn from data, and if the data is biased or poorly represented, the AI can perpetuate and amplify those biases. To address this concern, developers must ensure that AI systems are well-trained on diverse and representative datasets, regularly monitoring and mitigating biases that may arise.
Another critical consideration is the protection of user privacy. From internet searches and online purchases to social media interactions, vast amounts of personal data are continuously being collected, often without explicit user consent. It is vital for organizations to be transparent about data collection practices and establish robust privacy policies to protect user information.
Moreover, as AI models grow increasingly complex and resource-intensive, managing their environmental impact is a pressing ethical consideration. Training large-scale AI models consumes substantial amounts of energy, contributing to carbon emissions and exacerbating climate change concerns.
Some of these large language models (LLMs) have hundreds of billions of parameters and use a lot of energy and water to train them. For example, GPT3 took 1.287 gigawatt hours or about as much electricity to power 120 U.S. homes for a year, and 700,000 liters of clean freshwater.
The ethical considerations surrounding AI encompass avoiding bias, protecting user privacy, mitigating AI mistakes, and managing the environmental impact of AI systems. Developers must ensure diverse and representative datasets to mitigate biases, establish transparency in data collection practices, and prioritize safety and reliability in AI systems. Moreover, efforts to reduce the environmental footprint of AI technologies are crucial.
Future of AI
The future of AI holds immense potential and promises to revolutionize various aspects of our lives. AI is expected to make significant strides in business operations, where it can streamline processes, enhance decision-making, and revolutionize customer experiences. However, it is important to establish boundaries and address potential risks associated with the integration of AI into our daily lives.
The differences between current AI systems and more advanced general AI systems are already significant. One example of this is the updated version of GPT-4. OpenAI state "The difference comes out when the complexity of the task reaches a sufficient threshold—GPT-4 is more reliable, creative, and able to handle much more nuanced instructions than GPT-3.5."
Prompt engineering techniques are evolving, enabling more sophisticated interactions between humans and AI. The impact of AI extends beyond specific industries, influencing every product and company.
It's worth noting that the impact of AI extends beyond just specific industries or sectors. As Sundar Pichai, CEO of Google stated AI is "the most profound technology humanity is working on. More profound than fire, electricity, or anything that we have done in the past." Every product and every company will be influenced by this transformative technology.
90% of AI experts believe human-level AI could exist within the next 100 years. Whilst no one can truly know what the future holds it is worth noting how serious this consideration could be and focus on training AI to remove bias and consider any legal and ethical implications. At a recent GDS Summit 65% of the attendees, consisting of partners and senior leader attendees, anticipate that the emergence of explainable AI and ML models will be the most significant technological advancement in data analytics in the next 5 years.
Meanwhile, one-third of the attendees, at a 2023 summit, felt that their immediate team (direct reports, peers and supervising manager) is actively engaged in applying AI to drive value for their business and impact clients. With the rise in adoption of AI tech ethics and social responsibility are also a main concern, with a third indicating that humans must play a more significant role in these areas, as AI continues to disrupt traditional job markets.
These statistics highlight the growing importance of AI ethics and the need for organizations to prioritize the ethical implications of AI as they unlock its potential for growth and innovation.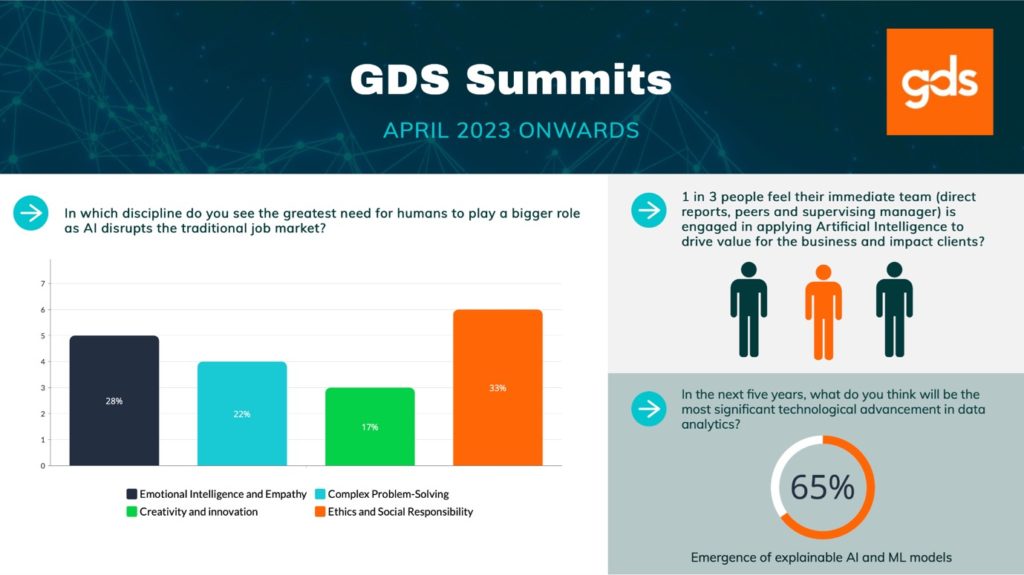 Conclusion
The integration of AI into various industries has brought about significant advancements and transformative changes to our lives. However, with these advancements come ethical considerations that must be carefully examined and addressed. By embracing the potential benefits of AI while actively addressing ethical considerations, we can create a future where AI technology aligns with our values, fosters innovation, and contributes to a fair, inclusive, and sustainable society.
Back to insights