We're all transforming, to a greater or lesser extent. But that doesn't mean we're all doing it well. So what does good look like? And how do we avoid the most common mistakes?
In brief:
Digital ways of working improve productivity, increase satisfaction and drive new revenue
70% of complex, large-scale change programs don't reach their stated goals
35% of execs cite 'delivering on digital transformation' as their highest investment priority
Explaining the reasoning is key: how do we make it easier for people to take that journey?
Getting quick wins is crucial, given that most change programs are multi-year undertakings
Change fatigue is real, so finding 'adoption champions' can help build engagement
Table of contents:
You've probably all read the stats: research from McKinsey shows that 70% of complex, large-scale change programs don't reach their stated goals. Forbes assessed the risk of failure in digital transformation to be 84%. Meanwhile Bain & Company found just 5% of those companies involved in digital transformation efforts achieved or exceeded the expectations they set for themselves.
Whichever way you slice it, those figures are not good. We are, almost all of us, repeatedly failing in our transformation efforts.
This is curious, because by and large the leadership buy-in – so often cited as a blocker to project success – is there. According to Gartner, 91% of businesses are already engaged in some form of digital transformation initiative, with 89% of board directors saying that digital is embedded in all their business growth strategies.
And the problem rarely lies with the technology, either. Digital ways of working have repeatedly been shown to improve productivity, increase customer and user satisfaction, and drive new revenue streams, amongst other performance indicators.
Transformation remains a priority
Instead, the challenge lies – as it so often does – in our implementation of those digital tools and workflows. So where are we going wrong? How do we overcome some of the common barriers? And what do we need to do to mitigate against that high failure rate?
These were some of the questions put to a panel of experts at the recent CIO North America Summit, hosted by GDS Group and featuring contributions from some of the continent's leading IT executives.
And it was a pertinent topic for those attending, given that 35% of the execs present cited 'delivering on digital transformation' as their highest investment priority for the rest of 2023 – ahead of areas such as improving cybersecurity, rationalizing the technology estate, building resilience and monetizing insights from data.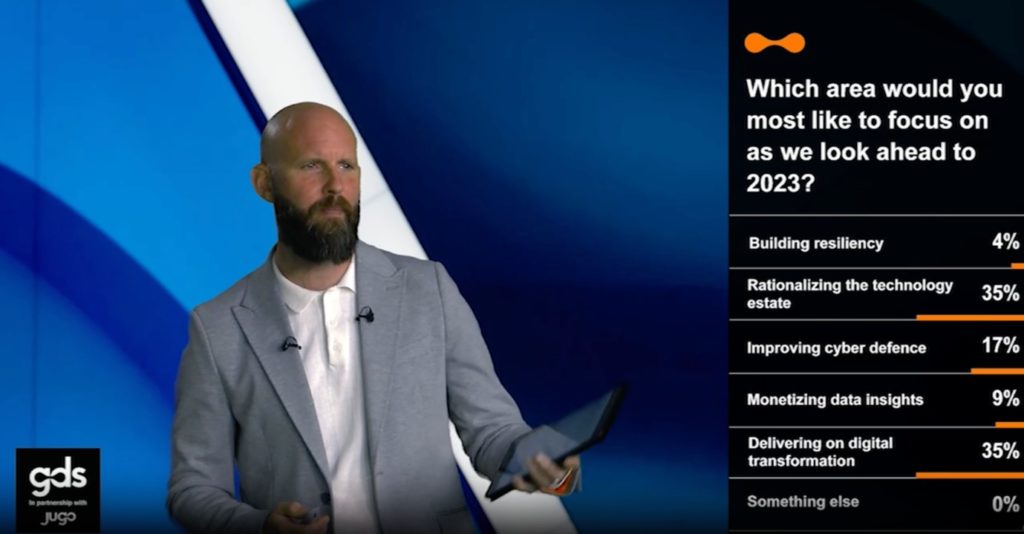 Poll results from GDS Group's CIO North America Summit suggest digital transformation remains a key concern
And with IBM finding that 60% of CIOs believe their modernization program is behind schedule, focusing on how to pick up the pace remains a key concern.
Rallying the troops
There's an awareness that delivering on the promise of digital transformation remains difficult. And there was also agreement amongst the panellists that getting consensus on goals and definitions is a key element to any successful transformation.
"You need to have a great definition and do a great job of expectation management with the business," suggested Gertrude Van Horn, SVP and CIO over at industrial giant NCH. "Because what they think you're building and what you're actually building may be two different things. Having an elevator pitch on the initiative is really important to keep grounding people on what it is supposed to be delivering."
Padma Adusumilli, VP for Information Technology at Pearson, held a similar view. "We need to do a better job of explaining what is changing in the business, and what that means for every single person in the company," she said. "If you can explain how people can go from point A to point B – and why they need to do it – you will get the buy in most of the time. It's about explaining the reasoning: what is in it for them, and how do we help them take that journey?"
The most common reason behind any project failure is lack of adoption, so making it easy for people to see the value is critical.
Gertrude Van Horn speaking at GDS Group's CIO North America Summit
Getting the foundations right
According to Alaina Reasonover, VP for Data, Analytics and IT PMO at Masonite, having the right fundamentals is another critical piece of the puzzle. "Building that foundational capability, having the right data, having the right technology in place, can be a really difficult process," she said. "And it can cause people try to jump to the transformation work before doing the foundational work, which can often lead to failure."
David Williamson, Chief Information Officer over at life sciences firm Abzena, agreed. "I think sometimes people just try to reach too far, and then the business loses interest," he said. "So finding a good business use case where you can get up and running quickly is also critical."
For Reasonover, that's about right-sizing the different elements of your transformation program to meet the expectations of your various stakeholders. "You need to find those quick wins," she suggested. "For instance, we're on a multiyear ERP transformation to eliminate technical debt. But we don't want to wait until the end of that before doing some of this other transformational work. So how do we partner with the business to come up with a use case that we can tackle now, in parallel with those technical debt elimination projects that are multi-year?"
Overcoming fatigue
Ultimately, it's about keeping people engaged in the work you are trying to do – something that is becoming increasingly difficult, given both the pace and the sheer volume of change we are currently experiencing.
"Digital transformation has been around in the industry for a long time. And people are probably getting tired of that," said Adusumilli. "You need to ensure the C-level executives are aligned with what you are trying to achieve, what gaps you are trying to bridge. They have to be able to see what is in it for them, and have an opportunity to provide their recommendations."
In the same vein, your end users must understand what this journey means to them. "We are disrupting their lives every single day with these transformation activities, so we need to make sure the change is as easy as it can be," she added.
Reasonover agreed that the change fatigue struggle is real. "We're all making big changes at our respective businesses, and there is a lot of fatigue around that. There's just been so much 'new'," she said. "My advice is to have an adoption champion in the various business units and regions that you're dealing with. That will make a big difference. You need to have someone looking at engagement, because it's really easy to talk to the middle layer and the senior layer and then realise that you don't have any boots on the ground."
Ultimately, as with so many successful project or program implementations, it's about clear and effective communication. "Often when you have a mismatch in expectations, it's because someone dreamed up expectations that were never really part of the project, but that subsequently took on a life of their own," concluded Van Horn. "Clarity of objectives, communication around expectations, and making sure everyone knows their part in the initiative is really important, because otherwise things can go off the rails really fast."
Conclusion
Digital transformation efforts often face significant challenges, leading to a high failure rate. While leadership buy-in and the availability of technology are not typically the issues, successful implementation remains elusive. To improve the success rate of transformation programs, organizations must focus on establishing consensus on goals, offering clear explanations of the changes to stakeholders, and ensuring adoption by making it easy for people to see the value. Building a solid foundation, identifying quick wins, and overcoming change fatigue through effective communication and engagement are crucial elements in achieving successful digital transformation.
Looking for ways to accelerate your sales cycles, engage in industry conversations, and achieve better outcomes? Look no further than our digital summits – our unique 3-day digital event experiences that bring together senior executives and solution providers.
Our recent CIO North America Summit ended with an impressive meeting completion rate of 122% against target.
Partnering with GDS Group can help you get in front of the right people at the right time.
Don't miss out on the opportunity to attend one of our unforgettable event experiences that promise to leave you feeling inspired and empowered.
Check our calendar now and join us. We can't wait to see you there!
Back to insights