In just 5 months since the beginning of 2023, there has been a shift in focus, with customer experience (CX) being at the top of many organizations' agendas. In our latest infographic, we look at the shift, trends, and the future of customer experience.
In brief:
75% of senior executives are prioritizing CX in 2023, in comparison to 15% in 2022
Average spend on CX-focused projects is on the up, with an increase of nearly 50% to $9m from 2022, demonstrating the shift in focus
35% of senior leaders are looking at revamping the customer journey, the highest it's been since 2021
Customer expectations have hit an all-time high, 71% of customers expect personalized experiences
Table of Contents
What Has Changed in Customer Experience?
Businesses around the world have been forced to radically change nearly every facet of their operations – and no area has seen more turbulence than customer experience, a trend driven by shifting customer expectations.
As a result, it's no surprise that senior executives across North America are increasingly prioritizing customer experience (CX) and user experience (UX) in 2023.
New trends and priorities emerge year after year in a society that has seen a tremendous shift toward digitalization.
CX has become a significant concern for senior executives by 2023. According to our recent insights, 75% of top executives would prioritize CX in 2023, up from only 15% in 2022.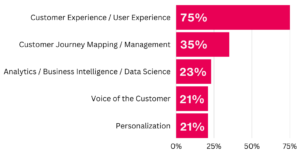 Exceptional Customer Experiences at Every Touchpoint
Customer experiences that are exceptional at every touchpoint have become the norm.  Businesses are realizing the value of providing outstanding customer experiences at all touchpoints. Senior leaders are redesigning the customer journey, with 35% looking for ways to improve it. This is the highest level since 2021, indicating that businesses are putting in extra effort to provide a great customer experience.
Voice of the Customer (VoC)
Another important aspect of CX is listening to the customer's voice (VoC). The percentage of top executives that listen more to the VoC has climbed to 21% in 2023, up from 6% in 2022. This suggests that businesses are starting to recognize the value of listening to their customers' requirements, feedback, and preferences to improve the overall customer experience.

Senior Executives are Investing More $$$ on CX in 2023
The shift in focus is evident in the roughly 50% increase in average investment on CX-focused projects from $5.5m in 2022 to $9m in 2023.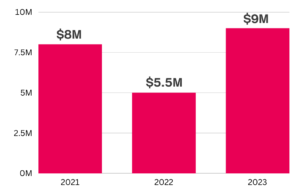 Our 2023 CX Innovation Summit in North America indicated a massive spending opportunity for CX solution vendors. According to our most recent research, this opportunity is currently valued at $56 million.
This indicates the region's growing relevance of CX and businesses' willingness to invest in providing memorable experiences to their customers.
Personalization
Personalization has been one of the most significant developments in consumer experience. Customers today want individualized experiences, with 71% expecting this level of care. This has been driven by technological advancements that have made it easier for businesses to acquire and analyze customer data, and then use that data to provide individualized experiences.
The Customer Journey
Another shift has been the growing significance of the customer journey. In 2023, 35% of senior leaders plan to redesign the customer journey, the greatest level of enthusiasm since 2021. This reflects a growing recognition that the customer journey is a critical component of the overall customer experience, and that companies need to focus on delivering seamless, intuitive customer journeys to stay competitive.
Challenges
Providing an outstanding client experience is not without difficulties. Despite the increasing focus on CX, senior executives attending our CX Innovation Summit in North America this year identified these top challenges: data, support, technology, tools, and process.  Identifying and addressing these issues is important to the success of any CX initiative.
So, What Makes a Customer Experience Stand Out?
To stand out in 2023, several important factors must be considered. First and foremost, personalization is essential. Customers expect businesses to know who they are, what their preferences are, and how to personalize their experiences to them. This necessitates organizations collecting and analyzing client data and using this data to provide customized experiences.
Second, the customer journey is critical. Customers expect seamless, intuitive journeys that make it easy for them to do business with a company. This means that companies need to focus on delivering experiences that are easy to use and navigate, and that minimize the amount of time and effort required for customers to achieve their objectives.
Finally, companies need to focus on delivering exceptional customer service. In 2023, customers expect companies to be responsive, helpful, and proactive in addressing their needs and concerns.
The Future of CX
Customer experience (CX) is a critical element of business success, and in recent years, it has become increasingly important for companies to focus on delivering exceptional experiences to their customers. In 2023, this focus on CX is set to become even more pronounced, with 75% of senior executives prioritizing CX, up from just 15% in 2022. As a result, the average spend on CX-focused projects is also on the rise, increasing by nearly 50% to $9 million from 2022.
The Trends We Predict in 2023 and Beyond
Looking ahead to 2023 and beyond, there are several key trends that we expect to see in the world of customer experience.
Rise of Artificial Intelligence (AI)
First, we expect to see increased use of artificial intelligence (AI) and machine learning (ML) to deliver personalized experiences. Companies will be able to collect and analyze massive amounts of customer data and utilize this data to offer experiences customized to each individual customer, increasing customer satisfaction and loyalty.
Artificial intelligence (AI) is transforming the customer experience landscape. By 2023, AI will become more prevalent in customer service, marketing, and sales. AI-powered chatbots will become even more sophisticated, providing personalized and immediate support to customers. This will reduce the need for human customer service representatives and allow businesses to provide 24/7 support, with 67% of consumers preferring self-service. This could be the tech that boosts satisfaction moving forward.
Improving the Customer Journey
Second, we expect to see a continued emphasis on the customer journey, with companies investing in technologies and processes to deliver seamless, intuitive journeys that make it easy for customers to do business with them.
Continued Focus on Personalization
In 2023, businesses will continue to focus on providing personalized experiences to customers. Customers will expect businesses to know their preferences and needs, and to tailor their experiences accordingly. This will require businesses to collect and analyze vast amounts of data about their customers, including their purchase history, browsing behavior, and social media activity. By leveraging this data, businesses will be able to offer personalized recommendations, customized products and services, and targeted marketing campaigns.
Emphasis on Omni-Channel Experiences
Omni-channel experiences will become the norm in 2023. Customers will expect to be able to seamlessly interact with businesses across multiple channels, including social media, email, phone, and chat. Businesses will need to ensure that their customer service and sales teams are equipped to handle these interactions, regardless of the channel. Additionally, businesses will need to ensure that their branding and messaging are consistent across all channels, providing a cohesive and seamless experience for customers.
Conclusion
The customer experience landscape is constantly evolving, and businesses must adapt to remain competitive. Despite the hurdles, by embracing the trends discussed above, businesses can provide personalized, seamless, and convenient experiences to their customers, leading to increased customer satisfaction and loyalty and generating revenue growth. As we look towards the future, it is clear that the customer experience will continue to be a key driver of success for businesses in all industries.
Stay tuned for more exclusive insights from our event experiences to keep you ahead of the competition.
2023: The rise of CX – North America.
Download our latest infographic to explore how marketing budgets have shifted, where the biggest challenges are and what we foresee in 2023.
Back to insights