In 2023, the role of senior marketing executives, including CMOs, has become more complex than ever, with new challenges emerging daily. Driving growth, generating revenue and creating brand awareness while navigating a rapidly changing technological and cultural landscape are just some of the daunting tasks on their list.
Based on our GDS research, involving hundreds of senior marketing executives, we'll explore some of the top challenges they faced in 2023 and how these challenges differ between Europe and North America. We'll also examine what this research tells us about the future of marketing and how these challenges may evolve over time.
Jump to section:
What are the top challenges for marketers?
Although the role of senior marketing leaders varies, as do the companies, industries, and countries they work in, their challenges are largely similar.
The key differences are in the prioritization of these challenges and how they tackle and overcome them.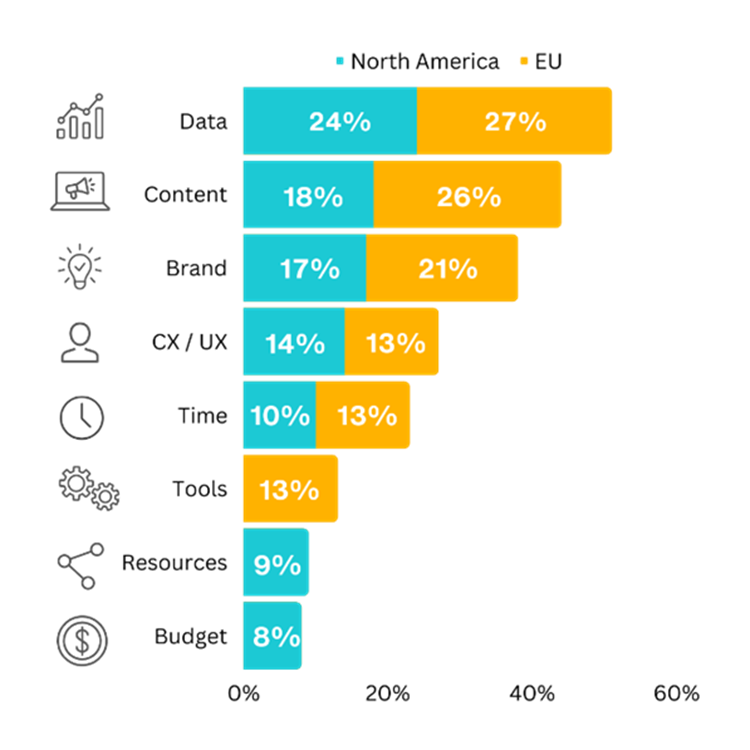 Our research highlighted the top 8 challenges faced by 645 senior marketing executives. Let's dive in!
1. The challenge of data for marketers.
Whilst data was a top priority for senior marketers in Europe, the challenge of "content" was just as significant, which we'll explore in the next section.
For senior marketers in North America, challenges related to data were more prominent than the other sub-categories. With 27% and 24% of our North American and European based marketers – respectively – citing data as one of their top challenges.
The most pressing question is, why is data the biggest challenge right now?
There were several reasons cited during our event experiences:
Customer data architecture and volume
Difficulty in identifying the correct reporting methodology and attribution
Not having a single view of the customer
Defining metrics that can impact ATL (above the line) and BTL (below the line) activities
Data hoarding/decentralization and depreciating cookies
Enabling omnichannel sales journeys with real-time personalization at scale
Transition from Google Analytics 3 to 4
These challenges can be summarized into three areas:
Too much data
Not enough data
Leveraging data effectively
This means that although "data" might be a useful umbrella term for these challenges, the practical solutions to the data challenge can vary drastically.
2. The challenge of content for marketers.
Content marketing, a term first coined in 1996 by John F. Oppedahl, became a catch-all term that encompassed almost everything tangible marketers produced for customers.
Fast forward to 2023 and the same term is still relevant, but significant alterations have occurred in terms of volume, technology and distribution. These changes persist and give rise to both fresh challenges and resolutions.
How can we capture attention? How can we maintain attention? What content should be prioritized? Which content is best for brand building and which is best for lead generation?
These questions epitomize the challenges that senior marketing leaders face and that's just the tip of the iceberg.
Our research highlighted additional ways in which CMOs are struggling to control not only the flow of content but also the success upon which they are judged. Here's a snapshot of some of the content-based challenges identified:
Ensuring sufficient content and budget for personalization and deployment so that the target market can engage with it
Creating a consistent content or editorial calendar that aligns with the strategies and priorities of the business units
Implementing dynamic content optimization capability at scale
Tying content to conversions and defining relevant, appropriate metrics to measure and evaluate the impact of content marketing programs on the bottom line across multiple channels
Producing relevant content that will be adapted to different types of media
From all of the content challenges identified, one theme particularly stood out to us: content distribution and mobilization.
That is, how to get the right content to the right people at the right time on the right channel.
No matter the location, industry or size of the organization, being able to personalize and localize content while simultaneously scaling content marketing is a massive challenge.
How will you tackle this challenge during 2023?
3. The challenge of brand for marketers.
There are two facets to brand that senior marketers identified as challenges: strategy and engagement.
Looking at brand strategy first, consistency is the biggest challenge within this sub-category.
Consistency of brand image, brand purpose and brand messaging. Some 38% of marketing leaders highlighted that at least one of these areas of brand strategy was a challenge.
It is also important to note that this challenge was particularly prominent within multinational organizations who need to find a balance in scaling brand messaging for a global audience while also localizing the message to ensure it is appropriate for certain regions and cultures, where there can be differences in interpretation.
Additionally, reporting, results and budgets were at the forefront of challenges within the category of brand.
Some of the questions that were asked during our GDS Marketing Summits included:
How can we measure brand equity?
How does investment in brand drive leads for the business?
How do we measure brand recognition, sentiment and approval?
However, challenges around brand strategy accounted for 60% of challenges, with the remaining 40% focusing on brand engagement. From this, two sub-categories took prominence: employer branding and internal brand engagement.
Both sub-categories are primarily concerned with engaging people —either to highlight why others should work for the company or to drive a positive company culture.
At a time when the supply of roles is outstripping supply (which is particularly acute in some industries/roles), the responsibility is falling more and more onto marketing teams to show why people should work for them, over and above compensation.
To summarize, a lot of the difficulties associated with branding have persisted over time, specifically in terms of monitoring, even though digital platforms have made it simpler. Nevertheless, establishing the brand as the top choice is anticipated to become an increasingly challenging task not only in 2023 but also in the future.
4. The challenge of CX / UX for marketers.
Customer experience (CX) and user experience (UX) were both highlighted as key ongoing challenges in 2023.
The biggest challenge is determining the best way to analyze the customer journey. With an increasing diversification of channels, complex interactions and growing concerns over data privacy and cookie usage, there are numerous ways to view the journeys.
The simplest way of explaining this is through science—particularly slides of tissue samples. The same sample can look vastly different depending on the microscope size, specifications and magnification. As such, the same sample will look completely different depending on the view, despite it being exactly the same.
Interestingly, our research indicated that the most significant challenge within the CX / UX category was skillsets and people, with marketers highlighting the lack of staff who had the required skillsets to effectively own and understand customer journeys.
This issue is likely to continue as the pace of new technology eclipses skillsets.
According to our recent GDS North America CX Innovation Summit, our insights revealed that there is a glimmer of hope when it comes to CX / UX. While businesses are yet to meet the expectations of their customers, 75% of senior executives in attendance are reimagining CX in 2023.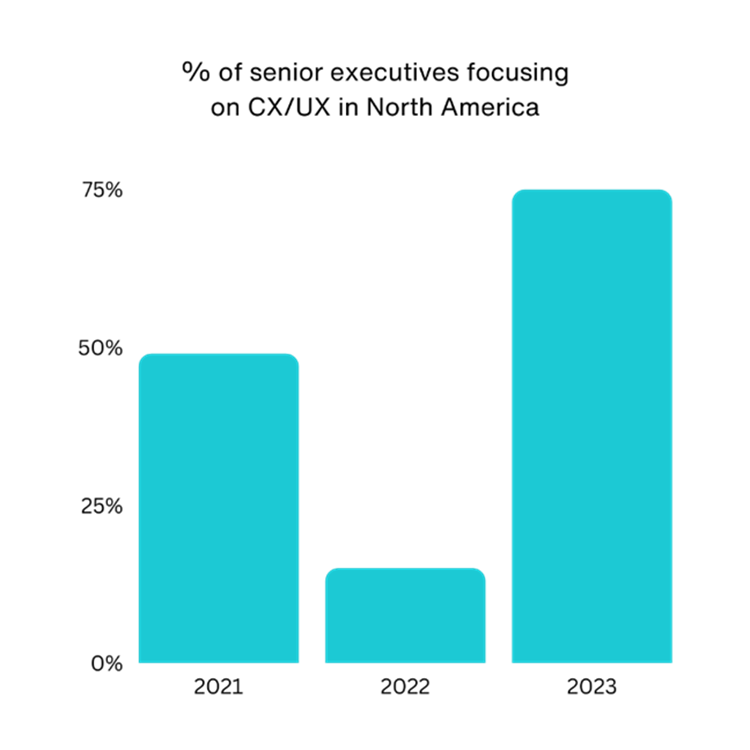 It is clear that decision makers recognize the need for a full end-to-end CX in order to keep-up with the evolving digital landscape.
In part 2 of this blog, we'll delve into the remaining challenges faced by senior marketing executives. By understanding these challenges and staying abreast of emerging trends and technologies, senior marketers can better position their organizations for success and drive growth in an increasingly competitive marketplace.
Data demographics
The data included in this blog is based on the results of research conducted through our GDS event experiences from 645 senior marketing professionals at large enterprise businesses of 1000+ employees. The aim was to find out more about the challenges facing senior marketing executives in a post-pandemic world.
Our data includes insight from large multi-national companies including L'Oréal, PepsiCo, Lenovo, Marriott, Comcast, Facebook and LVMH. This is in addition to some smaller SMEs to give a more rounded view of the state of budgets.
At GDS we're all about insights. We're not just talking about data; we're talking about actionable outcomes, insights and results that can drive pipeline and conversions for our partners.
We deliver insights through event experiences; connecting solution providers with decision-makers virtually. It's effective, it's efficient and it doesn't stop there. Not only do we provide insight and pipeline, we also offer content and production capabilities.
Extend ROI and say hello to ROX; return on eXperience, return on eXpertise, return on eXpectation.
Download infographic: The shift in marketing focus
Download our latest infographic to explore how marketing budgets have shifted, where the biggest challenges are and what we foresee in 2023.
Back to insights