Marketing budgets have hit an all-time low. According to GDS insights, overall allocated marketing budgets decreased by up to 23% from 2021 to 2022 across European and North American markets. This forced Chief Marketing Officers (CMOs) to do more with less, all while grappling with a range of uncontrollable realities. So, what can we learn from this? 
How have marketing budgets changed?
As we approach the end of the financial year, senior marketers will once again look at their budget planning, reprioritizing channels, optimizing marketing activity and reallocating resources to ensure they are on target for this year. 
Before we look ahead, what were the biggest hurdles they've had to overcome in the past couple of years?   
Download our infographic for a quick view of the insights and read on to discover the 'why' behind the data.
GDS surveyed 645 senior marketing executives including CMOs, VPs of Marketing and Marketing Directors at our industry leading events in 2021 and 2022. We uncovered how marketing budgets had shifted, what the biggest challenges were and how have priorities shifted. Here are the insights: 
Downward spiral
We continue to hear that marketers are expected to do more with less and our findings support this. Furthermore, marketing spend is being looked at under a microscope with a greater emphasis placed on the returns that each channel is driving.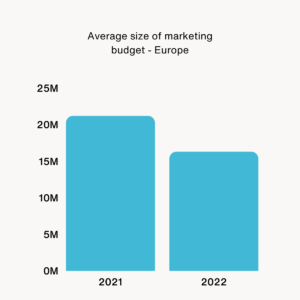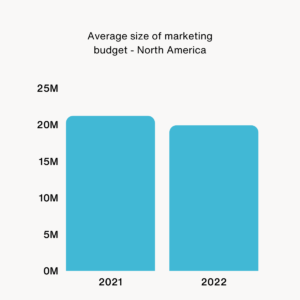 CMO Summits, GDS – North America & Europe (2021 – 2022)
According to the Office for National Statistics, based in the UK, GDP saw a greater decrease in Europe (compared to North America) and recovered at a slower rate throughout 2021 and 2022. This indicates that the economy in Europe has taken slightly longer to bounce back after the pandemic, thus impacting businesses, budgets, and spending. This supports our findings.
It was during this time that GDS looked at our offerings and optimized them so our partners could deliver more value and return from their investment. We have since refined this further, going beyond ROI, providing our partners with ROX – a return on eXperience, return on eXpertise and a return on eXpectation.
As budgets decrease, data remains the most common challenge
Despite being a hot topic of conversation, budgets were not identified as the most common challenge amongst senior marketing executives. In both North America and Europe, organizing and leveraging pre-existing data remains the biggest challenge.
Many executives highlighted the issue of "data overload" as many of their employees simply "get lost" in the data. Others highlighted poor legacy data and the difficulty in sourcing reliable, good data as significant pain points that are holding them back. To us this makes complete sense. After all, how can you create a successful campaign with significant returns if your data isn't targeted, segmented, or clean?
Insight feeds into everything we do at GDS. Utilizing the data we gather from senior executives in addition to third-party sources, means that we can deliver strong campaigns for our partners, resulting in pipeline acceleration and that all-important ROX.
Creating relevant content
Coming second only to data, content was highlighted by senior marketing executives as a significant challenge. Creating relevant and engaging content at scale is not an easy task. In addition, marketers pointed out the difficulties around being able to analyse the effectiveness of content and gaining performance insight. Reoccurring challenges include:
Finding the right agency
Having the resource internally
Creating engaging content
Getting your content seen in a saturated environment
To overcome content marketing budget challenges, we have seen our partners choosing to refine the channels they are using. Instead of creating generic content to display on every channel, they are creating targeted, relevant content for a segmented and engaged audience through fewer channels. One of those impactful channels being our immersive event experiences.
Through our content, production and insights capabilities, we aim to deliver a better ROX for our partners. Our GDS studios are filled with designers, videographers, technicians, and content creators, to help you create meaningful experiences for your customers, and at scale.
Where are senior marketing executives allocating budget?
We analysed the changes in budget allocation for customer experience (CX) and brand throughout 2021 and 2022. For senior executives in North America, spending was greater for CX in 2021 than brand; however, in 2022, spending on brand took priority and increased by a staggering 52%.
Interestingly, spending on brand in Europe decreased by 34% across the same period. This is likely due to the 23% decrease in overall budget experienced by senior executives in the region.
Furthermore, spending on CX in Europe saw a decline of 41% compared to just 2% in North America. This further reflects the overall reduction in budget felt in Europe. Despite this, spend on CX still took up 26% and 22% of the overall budget across Europe and the US respectively in 2022.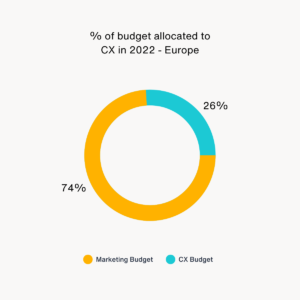 CMO Summits, GDS – North America & Europe (2021 – 2022)
This identifies the trend of moving towards a more customer centric approach in marketing.
What's next for 2023?
Despite macroeconomic considerations, the future is looking bright for senior marketing executives. As customer centricity becomes more of a focal point for marketers, budgets are being shifted to deliver this digitally.
For 2023, senior executives are allocating most of their marketing budgets to self-service customer tools, customer journey management and consumer insights. The greatest increase (seeing an uplift in budget of 50%) is analytics and data science to deliver an improved customer experience.
This shift in spending makes sense considering that data was the greatest challenge for marketing executives in 2022. Stay tuned to see what insights we uncover in 2023 at our industry-leading events.
Key findings
Senior executive budgets in Europe and North America saw a decline from 2021 to 2022.
Despite this, budget was not identified as the most common challenge.
Data and content cropped up as the most popular challenges for senior marketing executives. However, these may be closely linked to budget and resource.
In North America, spending increased significantly on brand, whereas in Europe there was a steep decrease.
Despite budgets reducing, CX still took up a significant portion of overall budgets in both Europe and North America.
Data demographics
The data included in this blog is based on the results of research conducted through our event experiences of 645 senior marketing professionals at large enterprise businesses of 1000+ employees. The aim was to find out more about CMO budgets, challenges and focus areas in a post-pandemic world.
Our data includes insight into the budgets of large multi-national companies including L'Oréal, PepsiCo, Lenovo, Marriott, Comcast, Facebook and LVMH. This is in addition to some smaller SMEs to give a more rounded view of the state of budgets.
At GDS we're all about insights. We're not just talking about data; we're talking about actionable outcomes and results that can drive pipeline and conversions for our partners.
We deliver insights through event experiences; connecting solution providers with decision-makers virtually. It's effective, it's efficient and it doesn't stop there. Not only do we provide insight and pipeline, but we also offer content and production capabilities.
Extend ROI and hello to ROX; return on eXperience, return on eXpertise, return on eXpectation.
Download infographic: The shift in marketing focus
Download our latest infographic to explore how marketing budgets have shifted, where the biggest challenges are, and what we foresee in 2023.
Back to insights