The digital revolution has transformed the way we conduct financial transactions and manage our money. Traditional banking has taken a back seat as digital banking gains momentum. But what are the factors that drive customers away from digital banking, and how can financial institutions ensure a seamless, secure, and delightful customer experience?
In brief:
Accurate authentication methods, such as multi-factor authentication, can enhance security and streamline the user experience
A strong customer identity framework protects sensitive financial information and generates trust among customers, assuring them that their data is secure
Efficient identity management becomes a key enabler for accelerating digital initiatives
During the latest GDS Banking Innovation summit, we heard insights shared by Brandon Williams, VP of IAM Strategy at Ping Identity. We've taken seven key lessons from Brandon, in the importance of customer identity and its transformative role in the world of digital finance.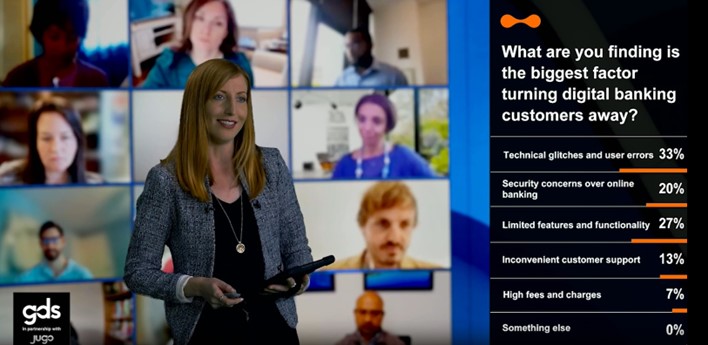 1. Understanding the challenges
Brandon begins his masterclass session by addressing the audience with a crucial question: What turns digital banking customers away? The GDS poll revealed that technical glitches and user errors topped the list (33%) followed by limited features and functionality (27%), and security concerns (20%).
It's clear that the digital banking experience needs improvement and customer identity plays a pivotal role in addressing these challenges. First, by implementing robust customer identity verification measures, banks can significantly reduce the occurrence of technical glitches and user errors. Accurate authentication methods, such as biometrics or multi-factor authentication, not only enhance security but also streamline the user experience, reducing frustrating login issues.
Second, customer identity solutions can enhance the features and functionality of digital banking platforms. By gathering and analysing customer data, banks can gain valuable insights into user preferences and behaviour. This information can then be used to tailor the digital banking experience, providing customers with the features and services they desire, ultimately boosting user satisfaction and retention.
Lastly, addressing security concerns is paramount in the digital banking landscape. A strong customer identity framework not only safeguards against unauthorized access but also protects sensitive financial information. It generates trust among customers, assuring them that their data is secure, which is essential for retaining their loyalty in an increasingly competitive market.
2. The rise of the digital-first customer
"We've seen this rise of the digital-first customer. It wasn't just a COVID thing; it was happening before."
-Brandon Williams, Ping Identity
The digital-first customer is not a recent phenomenon. While the COVID-19 pandemic accelerated the adoption of digital solutions, the trend had already taken root. Brandon highlights how this shift has fundamentally changed the dynamics of the financial industry.
He says it has transformed customer expectations, and pushed for seamless, personalized, and immediate online experiences. As a result, traditional banks are adapting swiftly, while online banks and fintech startups are capitalizing on this trend.
3. Balancing security and user experience
The abundance of customer data has become invaluable for insights and personalization, yet it also raises concerns about data security and privacy. One of the challenges faced by digital banking customers is finding the right balance between security and user experience.
Brandon emphasizes that friction, often seen as an inconvenience, serves a dual purpose. It not only hinders malicious actors but also signals to genuine users that they are about to undertake a significant transaction.
4. Unlocking seamless and secure financial services
"Customer identity is going to unlock seamless and secure financial services," shares Brandon.
In the midst of the digital finance revolution, the key to unlocking seamless and secure financial services lies in the realm of customer identity management. This pivotal element, as emphasized by Brandon, serves as the linchpin in realizing the vision of a modernized financial landscape.
A robust identity framework acts as the cornerstone upon which financial institutions can build a reliable and efficient ecosystem. Brandon says by verifying and managing customer identities with precision and accuracy, these institutions can assure their clients of a consistent, secure, and effortlessly smooth experience, regardless of the channel.
In an age where digital transactions and online interactions are the norm, the establishment of a trustworthy customer identity system is not merely a choice, but a fundamental necessity for a thriving digital financial landscape.
5. Building operational resilience
Brandon emphasizes that maintaining operational resilience is not just a matter of convenience but a fundamental pillar of customer trust in the financial sector. Trust, in this context, is intricately linked to the assurance that a financial institution can consistently and dependably provide its services.
Operational resilience, therefore, plays a pivotal role in upholding this trust by guaranteeing that customers can seamlessly access their accounts, conduct transactions, and seek assistance, all without the fear of unexpected interruptions or disruptions.
It's not merely about meeting regulatory requirements; it's about instilling confidence in customers that their financial needs will be met reliably and securely, reinforcing the enduring partnership between customers and their chosen financial institution.
6. Accelerating digital initiatives
"Being able to add new products without having to build completely new user experiences or identity stores allows you to cheaply expand wallet share."
As financial institutions strive to stay competitive and relevant, efficient identity management becomes a key enabler for accelerating digital initiatives. Brandon highlights that a well-implemented identity strategy empowers organizations to introduce new products and services seamlessly.
By streamlining the authentication and verification processes, financial institutions can cultivate trust and convenience in their customer relationships, ultimately expanding their share of the customer's financial wallet. In this era of digital transformation, a robust identity management system not only safeguards sensitive data but also unlocks opportunities for growth and market expansion.
7. The role of customer identity in digital transformation
"Identity for us is the thing that really enables the rest of the tech stack," Brandon explains.
Customer identity emerges as the linchpin of digital transformation in the financial sector. As Brandon aptly emphasizes, customer identity is not merely a data point but a critical linchpin that unlocks the potential for seamless integration across various systems and platforms.
It acts as the connective tissue binding together the intricate web of financial services, from mobile banking apps to online trading platforms. A robust and well-managed identity framework is instrumental in upholding the highest standards of security, safeguarding sensitive financial data and ensuring that each user enjoys a tailored and personalized experience.
In essence, customer identity has become the unifying force that propels the financial sector's digital transformation forward, setting the stage for a more interconnected, secure, and user-centric future.
Summary
In the rapidly changing world of digital finance, customer identity stands out as a crucial element that enables financial institutions to better serve customers who prioritize digital interactions.
Brandon Williams' insights underscore the critical role of customer identity in the financial sector's ongoing transformation. It is not merely a technical consideration but a strategic imperative for institutions looking to thrive in the digital age.
As the financial landscape continues to evolve, embracing the power of customer identity is a step toward delivering the seamless, secure, and personalized financial services that modern customers demand.
Looking for ways to accelerate your sales cycles, engage in industry conversations, and achieve better outcomes? Look no further than our Summits – our unique 3-day virtual event experiences that bring together senior executives and solution providers.
Partnering with GDS Group can help you get in front of the right people at the right time.
Don't miss out on the opportunity to attend one of our unforgettable event experiences that promise to leave you feeling inspired and empowered.
Check our calendar now and join us. We can't wait to see you there!
Back to insights