Forecast to surpass 6 trillion USD by 2030, social commerce is starting to take off. Supported by influencers, content creators and tech platforms, this new channel for consumers to purchase products and services seeks to create a seamless shopping experience and increased return on investment (ROI) for businesses. But will this new trend catch on? Discover what factors you need to consider.
Table of contents:
Introduction
Social commerce. A term that we keep hearing global thought leaders and senior decision-makers talk about. But is it something worth investing in or is it just a passing craze?
Whilst the concept is only just gaining traction, social commerce first entered the scene in 2005 with Yahoo's Shoposphere platform. This was the first of its kind to combine user-generated content in the form of picking lists and eCommerce. It gave consumers the ability to view new products, engage with each other, and gain recommendations all in the same place as purchasing.
Fast-forward to now and marketers are truly seeing the value of social commerce. As highlighted by a a study featured in Elsevier's Journal of Business Research, social commerce extends the relationship between vendors and customers, removing the focus from one-off transactions and point of sale to the wider buyer journey.
It's also set to grow immensely. Currently valued at $724 billion US dollar, Social Commerce is forecast to surpass $6 trillion US dollars by 2030 as companies begin to invest.
One of the latest advancements includes eBay's social sharing integration on their Seller Hub in April 2023. This new function enables eBay sellers to link their social media accounts to their eBay shop, making it easy to share product listings on Facebook, Instagram, and Twitter.
But with reports of Meta pulling back on social commerce efforts to cut costs and TikTok putting the launch of its US shopping platform on pause, is this a sign that social commerce is out before it was even in?
Social commerce and brand investment
Put simply, the answer to the above question is no. Despite a reported reduction in spending by Meta, the brand is still making progress when it comes to social commerce. New tools, Commerce Manager and Checkout, have been created for Facebook and Instagram users, enabling them to set up a shop within the platform.
And they're not alone. Amazon has implemented Amazon Inspire, a new "shop as you scroll" feature on its app whilst Google has also joined the cause with Google Perspectives; A new search feature that uses generative AI to provide searchers with user-generated videos, images and written content.
These are all exciting advancements, but the important question is where does the business opportunity lie?
The social commerce opportunity
ROI increase
In HubSpot's 2023 State of Marketing Report, social media tools were voted as one of the top channels for generating the most ROI.
Operational efficiency
Although most retail businesses are set to profit from it, the benefits don't just come in the form of increased conversion. Elsevier's recent study found that social commerce can even improve operational efficiency. This is thanks to the accuracy of social media data, particularly regarding demand forecasting and inventory management.
Conversion optimization
'Paths-to-purchase' that send shoppers to external transaction pages have lower conversion rates.
This is because shoppers are less likely to make a purchase if they are taken away from the platform that they're comfortable with and used to using.
By bringing the commerce element to social channels this eradicates the conversion challenge.
Minimal barriers to entry
As previously mentioned, tech and social media platforms are investing in the technology, so you don't have to.
New solutions, such as Fireworks' video commerce platform, are making it easier than ever to embed social into your selling strategy.
And your social network already exists – time to start using it!
Factors affecting the impact of social commerce in 2023
Whilst the aforementioned benefits can be reaped by all businesses, there are certain factors that will make social commerce more advantageous right now.
Audience
A greater uptake has been seen among Gen Z and Millennials. Therefore, if your target audience sits predominantly within these generations, it is likely that you will see greater success.
With these groups now taking up approximately 40% of the population in the US alone, it seems that social commerce cannot be ignored.
Geographic location
Without the need for sophisticated eCommerce websites, Asia has been an early adopter with over 80% of the online population in Thailand, India and China purchasing through social channels.
To demonstrate this further, sales from social commerce in China are worth almost 10 times that of sales in the US.
Thinking of expanding into the Asian market? Then this could be the place to start.
Product category
Certain product categories have shown greater success with social commerce than others. Data from Statista highlighted that these include apparel, grocery, and food delivery services.
Using content creators for effective social commerce
Whilst the above factors are beneficial, they're not essential. However, if you did want to accelerate the adoption of social commerce then influencers and content creators are on hand to assist.
The benefit of influencer marketing
With their close communities and trusted recommendations, it's no surprise that 89% of marketers who already use influencer marketing plan to keep up or increase their investment in 2023.
To delve deeper into the benefits gained from influencers and content creators, we asked senior marketers at our 2023 North America CMO Summit why they use influencer marketing. With the most votes, building brand awareness topped the chart.
Interestingly, 'to drive revenue' appeared 4th out of the 6 options provided, identifying that whilst there's a huge opportunity, CMOs aren't yet utilizing this channel to its full effect.
So why might this be?
Challenges with using content creators for social commerce
We then asked CMOs what their biggest challenge was when it comes to collaborating with influencers. Their top response was influencer management and having the right time or resources to align messaging.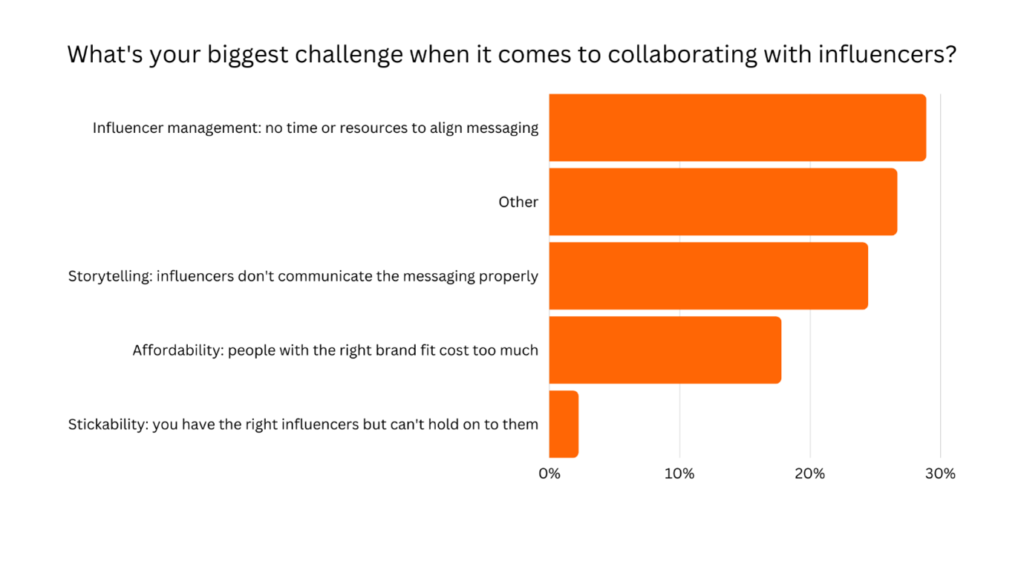 With over 45 million creators scattered across multiple platforms, it's easy to see how things can get a little complicated. Not to mention finding the right influencer with the right network to suit your product or service.
Another challenge highlighted was that influencers do not communicate the brand messaging correctly, which may be down to a poor influencer-brand fit.
But, with new challenges come new solutions.
Enter Creator Marketplaces – online platforms that connect content creators with brands, such as Creator.co. These marketplaces allow brands to find the right creators that can also generate high-quality content seamlessly and at pace.
These marketplaces have uncovered an opportunity in the B2B world despite social commerce predominantly benefiting B2C business models.
And with approximately 82% of marketers having a dedicated budget for influencer marketing, the demand already exists.
Social commerce challenges
The opportunity and benefits of using social commerce are clear, however, there are a couple of challenges marketers face.
Consumer trust
As highlighted by Statista, concerns have been raised over unprotected purchases, reimbursements, and lack of product information when it comes to social commerce.
The adoption of new technology will always generate some concern from the population due to fear of the unknown. This is then elevated when transactions are involved, and consumers are required to pay money online or via a new means.
Here, utilizing content creators could help to establish this trust. With strong relationships with their audiences, these concerns could be greatly reduced. However, this places an even greater emphasis on the need to use the right type of content creator.
Checkout friction
Pymnts Checkout Conversion Index found that 60% of social commerce shoppers experienced at least one pain point in the checkout process. This is compared to just 26% of shoppers who reported pain points when purchasing through the brands' website.
With technology companies working on the functionality of social commerce, progress is already being made to improve the customer experience. However, the reduction in spending on research and development, as seen with Meta, is likely to impact the pace of this progress.
What's next?
NeXT commerce
McKinsey has identified how social commerce is expected to evolve, coining this succeeding phase as NeXT Commerce (Next Generation Commerce).
In short, this new concept goes beyond social commerce, extending purchases to a holistic experience that involves education about the product, groups, communities, and immersing the consumer in the lifestyle surrounding the product.
The aim of this approach is to be personalized and consistent across all channels. McKinsey provides the example of running shoes to illustrate this. Here consumers would not only compare, purchase, and receive the product. They'd join running groups, download a tracking app, sign up for races and events, download content like meal plans and track their progress.
This sounds like an ideal customer experience, although to get this granular and personalised, the right data and technology are essential and potentially costly.
Conclusion
Social commerce is a small but rapidly rising and profitable endeavour. It has proven to be successful in generating ROI for B2C businesses whilst also opening an opportunity for the B2B world in the form of creator marketplaces.
Many tech companies and platforms are catching up, with the likes of Amazon, eBay, and Google all experimenting with new features.
Influencers and content creators are at the heart of utilizing social commerce effectively by harnessing their engaged and trusting communities. However, it is even more crucial than ever to find the right influencer that fits and understands your brand.
Other factors including audience, geographic location and product category will impact the likelihood of initial success when investing in social commerce. Here, greater success has been seen amongst Gen Z and millennial audiences, consumers in Asian markets and brands offering apparel, groceries, and food delivery services.
Like with any new technology, social commerce has its challenges. These come in the form of consumer trust, availability of product information and checkout friction, with 60% of social commerce shoppers reporting pain points.
But despite these challenges, social commerce appears to be here to stay with its successor, NeXT commerce already identified. With minimal barriers to entry, proven ROI generation and potential operational efficiencies, social commerce is certainly worth investigating for your business.
In the latest GDS Group Retail Summit, customer-centricity and tailored experiences were hot topics in conversations. Uncover other trends and priorities that were discussed by senior executives at Fortune 500 companies in our Beyond the Summit report below.
Download Beyond the Summit Retail Report
If you're interested in partnering with GDS on a future Retail Summit, giving you and your brand a voice in these discussions then submit an enquiry form to express your interest.
Back to insights