In brief:
Paramount Consumer Products and Services prioritizes sustainability and addresses public concern about ocean pollution
Because of his global recognition and connection to the water, SpongeBob SquarePants was chosen as the face of the Operation Sea Change campaign
The campaign's goals are to eliminate ocean garbage, promote environmentally friendly products, and educate SpongeBob fans about ocean preservation
The campaign has gotten a great response from fans, with the majority favoring sustainable SpongeBob products and understanding the importance of sustainability
Delivering a customer-centric campaign
Brands must work harder on the human element of customer experience. According to the Edelman 2023 Trust Barometer, 68% of customers say brands need to celebrate what brings us together and emphasize our common interests.
But how do we achieve it? Harvard Business School professor, Gerald Zaltman says, "Brands must know who their customers are and what type of journey they are on."
Paramount Global Consumer Products and Experiences and Nickelodeon tapped into their customers' priorities to deliver a campaign that addressed public concern about ocean pollution. And who better to help them than world-renowned sea-dweller, SpongeBob SquarePants.
Veronica Hart, Executive Vice President, Global Franchise Planning and Marketing at Paramount Global Consumer Products and Experiences joined our CMO summit to share more.
The consumer-driven call to action
"We're in a critical phase in this environmental crisis…We've learned that the consumer is the business. We know how much consumers care about how much is happening around us…It's something we're continuing to shed a light on.
"We all know we need to act now and be responsible."
Veronica Hart, Executive Vice President, Global Franchise Planning and Marketing at Paramount Global Consumer Products and Experiences
With 40% of our CMO Summit audience voting that their organization was heavily invested in sustainability as a key focus within their marketing efforts, it's clear to see how present these issues are for many brands.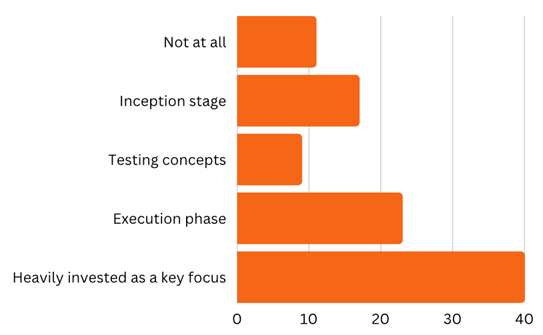 How focused on sustainability is your organization in your marketing efforts?
(Poll results from GDS Group CMO Summit)
And so, the Operation Sea Change: SpongeBob SquarePants initiative was born.
Face of the campaign
Why did they choose an optimistic yellow sponge to front the campaign?
"I don't think there's any icon in our portfolio that's had more of a core focus across our organization from inception than SpongeBob SquarePants," says Hart. "He's one of the most globally recognized characters in the world, and he comes from a place where this initiative is really true and organic to his personality."
And the association runs deep. SpongeBob was in fact created by a marine biologist and tells a story about the importance of the ocean, having a balanced environment and spending time with friends.
"It felt like the right time to take that into real world action," explains Hart. "We've learned that 11 million tons of plastic enter the ocean annually. That's a terrifying statistic for all of us. It harms marine species that call it their home. So, when we thought about this campaign, we were committed to being true to the property and organic nature of what SpongeBob cares about and protecting the ocean."
Campaign objectives
The campaign had three clear objectives:
To help reduce ocean plastic and restore marine habitats: Paramount Consumer Products and Services partnered with global NGOs for their expertise and donated significant royalties from SpongeBob products to fund the efforts. Their goal is to remove 5 million pounds of ocean plastic by 2027.
To promote sustainable products: They removed single-use plastic from their products and committed to using less plastic and packaging.
To educate millions of SpongeBob fans: They wanted to understand their fan base better and create tools for how younger and adult audiences can learn about ocean preservation.
To make the campaign as focused and authentic as possible, Paramount partnered with the scientific community as well as an objective third-party expert in the sustainability space to make sure they were making the right movements to truly improve outcomes.
The success of the campaign, which launched in September 2022, is largely reflected in the incredible fan response. Paramount Consumer Products and Services research showed 2 in 3 fans prefer sustainable SpongeBob products and 93% say sustainable products are important.
What's next?
To "Continue to build new thresholds and partnerships to continue to meet our goal," says Hart. This so far encompasses food and beverage, a partnership with sustainably aware brand, Lush, as well as creating sustainable SpongeBob socks, swimwear, and sleepwear.
Conclusion
In conclusion, the success of the Operation Sea Change campaign featuring SpongeBob SquarePants demonstrates the power of brand responsibility and purpose. Paramount Consumer Products and Services effectively aligned the campaign with SpongeBob's connection to the ocean, engaging fans and conveying their commitment to sustainability. This highlights the importance of authentic connections, collaboration, and consistent efforts to make a positive difference. To achieve a cleaner, healthier future for everybody, brands must continue to prioritize sustainability, forge partnerships, and align their identities with meaningful initiatives and purpose.
---
Looking for ways to accelerate your sales cycles, engage in industry conversations, and achieve better outcomes? Look no further than our digital summits – our unique 3-day digital event experiences that bring together senior executives and solution providers.
Our recent CMO North America digital summit had Veronica as a speaker and ended with an impressive average content attendance of 96% and meeting completion rate of 128% against target.
Partnering with GDS Group can help you get in front of the right people at the right time.
Don't miss out on the opportunity to attend one of our unforgettable event experiences that promise to leave you feeling inspired and empowered.
Check our calendar now and join us. We can't wait to see you there!
Back to insights