February marks Black History month in the United States. It is a time to celebrate and pay tribute to the long unsung achievements and contributions of African Americans to society. 
This month offers brands an opportunity to reflect on their allyship, roll out impactful campaigns, and address internal inequity and under-representation. The danger is that February becomes the month for "showing up," only for some organizations to potentially resume the status quo on March 1st.  
"Black History Month and Hispanic Heritage Month are very convenient times to show your commitment and affinity towards specific demographics" says Denise Bennett, Vice President of Brand Strategy & the Idea Lab at iHeart Media. Her closing keynote rounded off the recent CMO summit hosted by GDS Group. "But I'm just as black in August as I am in February! I still have the same consumer, psychological and solidarity needs [year-round]." 
The question marketers must ask is: How do I commemorate Black History Month authentically?  
Bennett laid out four key pillars for brand leaders to create thoughtful messaging and avoid alienating the very audiences they're trying to attract.  
 Lead with Intention
Consumer demand for personalization has killed the old model of casting a broad net – with a one-size-fits-all message. People want brands to see them as individuals, and this extends to having an authentic understanding of their cultural experiences. To this end, Bennett urges leaders to go beyond simply establishing who they wish to reach, by considering why they wish to reach them.  
Look Inwards
Authenticity starts with introspection. Indeed, the degree to which brand leaders have pursued diversity, equity and inclusion may likely be betrayed in its messaging.  
"Consumers have gotten smarter about asking the right questions when they see targeted messages towards them," says Bennett. "They want to know who was in the room where it happened, and whether they are representative of the culture, or possess the cultural competency to drive authentic consumer messaging with thoughtfulness and respect." 
After establishing why they're aiming to reach certain demographics, marketers must ask: Who has a seat at this table? And do they really have a voice?  
Bennett highlights that while her "black experience" is different from someone else's, "it doesn't mean either is lesser than or greater than…" However, it does highlight the need for various voices at the table. 
(Really) Show Up
Never has the old cliché "actions speak louder than words" been more relevant. Forbes's Dana Brownlee highlighted the hypocrisy of pursuing unpaid speakers in her 7 deadly sins of corporate black history month programming: "Expecting free speakers and training simply sends the message loud and clear that BHM is not important enough to expend resources on. It's disingenuous to claim that an initiative is a priority then barely fund it."
Similarly, expecting internal black talent to take on extra work or event planning in the lead up to Black History month – without recognition or a rebalance of their workload – suggests that addressing under-representation is an "extra project" rather than a long-term business objective.  
But ensuring that an organization's internal actions do not undermine their public sentiments is the bare minimum. Bennett states that building a reputation as a true ally requires alignment with the external issues that directly affect the audiences with whom organizations aim to stand beside. Though, she acknowledges that "this is where it can get tricky." Social justice or political issues make some of the most profound impacts on marginalized communities. And brands can run the risk of alienating other parts of their consumer base by bringing these conversations to the forefront.   
"But that's when you have to make some choices about whether you only want your consumers' rhythm, AKA their dollar, but not their blues, AKA their problems." 
Don't be a Hero
It is important for brands to ensure their version of showing up does not imply they're "saving the day." Bennett warns against tones and narratives that suggest particular audiences need saving; this fundamentally undermines the mission of Black History month, as a period of celebration and recognition.   
Learnings & Successes: 2 Case Studies
Barnes & Noble 
Barnes & Noble very quickly u-turned on their 2020 "Diverse Editions" campaign after launching a series of re-designed literature covers displaying black protagonists.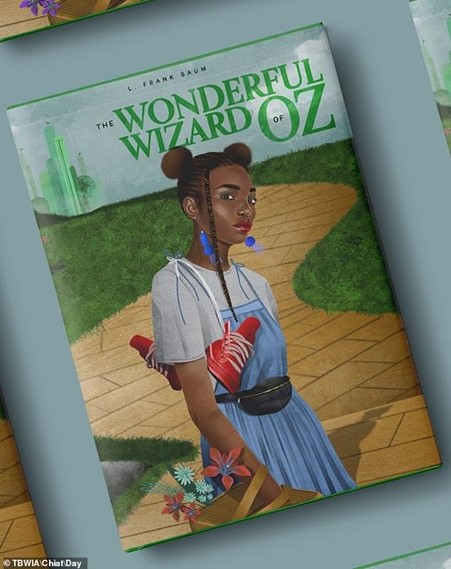 Image ref: TBWIA/Chiat/Day 
Instead of promoting black writers, B&N's campaign was criticized for actively giving a platform to white writers' work.  
While TBQA/Chiat/Day, the advertising agency heading up the campaign, argued that it aimed to "remove biases from our shared assumptions about literary characters," critics argued it squandered an opportunity to promote the experiences and contributions of black talent.   
Amongst disagreement in public discourse, B&N released the following statement shortly after cancelling the associated event: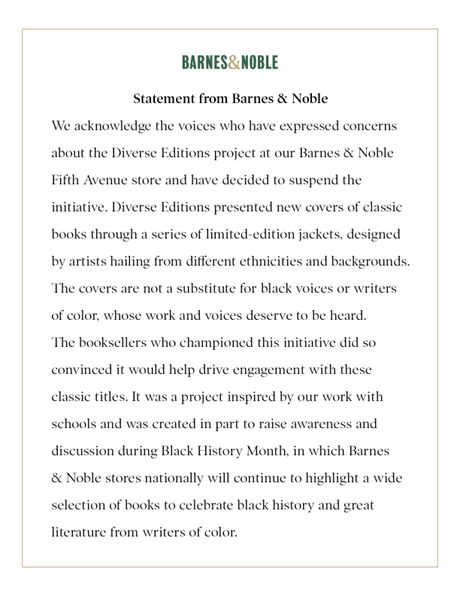 Image reference: Barnes & Noble on Twitter
AT&T
Bennett described AT&T 's "Dream in Black" as a case-study for a thoughtful and impactful campaign. Particularly, the "Rising Future Makers" initiative recognizes and rewards individuals who are pioneers of creativity, innovation, culture, and community. Winners receive a financial prize, as well as networking and support opportunities to manifest their visions
Bennett shares her first-hand insight, after collaborating with them as part of iHeartRadio's "Living Black:" "The conversations were led with intention; from the voices they used, to the talent the highlighted… and the tone, which was one of celebration."
Studio ID's Anastasia Dyakovskaya describes the program as "much more than a one-off content project or marketing campaign" applauding its consistent intentionality as "an initiative that keeps growing, building, and bettering itself with every year that passes."
2023 marks the competition's 5th year.
A Year-Round Commitment
Denise Bennett's candour around common multi-cultural marketing pitfalls was met with self-awareness amongst the attendees of the recent CMO summit. When asked where brands are going wrong in building authentic connections with diverse audiences, 45% indicated that "inclusivity was seen as a box-ticking exercise" and 18% of them lamented a "lack of internal representation" to be a key hurdle.  
Clearly there is work to be done, but the brands who differentiate themselves through intentionality, introspection, and determination to "show up" – will exhibit how Black History Month offers a springboard for year-round commitment to progress, rather than a 28-day marketing opportunity.  
GDS Summits are tailored 3-day virtual event conferences that bring together business leaders and solution providers to accelerate sales cycles, industry conversations and outcomes. Regarding the Digital Marketing Summit 78% of Delegates said the Digital Summit provided them with actionable outcomes to support their current initiatives and 80% of Solution Providers said they would be interested in sponsoring future events.  
For more, click here to hear from attendees on how GDS has helped them to achieve their business outcomes.  
Continue the debate at GDS' Digital Marketing Summits where we bring together senior marketing executives who are actively seeking to share, learn, engage, and find the best solutions.  
Back to insights