To understand the current marketing landscape and how senior marketing executives are staying ahead of the curve, we've delved into fresh data curated from our CMO Digital Summit experiences in North America (gathering insights from 542 senior marketing executives at 440 leading brands).
If we can learn anything, it's that senior marketing executives are not short on budget, they are, however, time-poor. In fact, many have reported an increase in their budgets since 2022, regardless of the tough and uncertain economic landscape.
While bandwidth is a challenge, senior marketers are looking at a brighter future, which is backed by their peers who have greater confidence in their ability to drive growth.
Let's jump into the key findings…
How much money are CMOs playing with?
One of the most striking revelations from our latest report centers on the dramatic surge in marketing budgets across North America. This news will no doubt be welcomed by all, especially considering marketing budgets hit an all-time low previously. According to a study by Marketing Week, 80% of B2B CMOs say that they have learned "the language of finance" to help them secure more marketing budgets.
Our data reflects this with a remarkable 334% budget increase since the tumultuous year of 2022. The figures have skyrocketed from $507 million to a staggering $2.2 billion. Yet, what's particularly interesting is the clear shift in perspective – marketing is no longer viewed solely as a cost center but as a powerful pipeline engine worth investing in for organizational growth.
This substantial budget increase has opened-up new avenues for marketers and reflects a growing acknowledgment within organizations that marketing is a pivotal driver of revenue.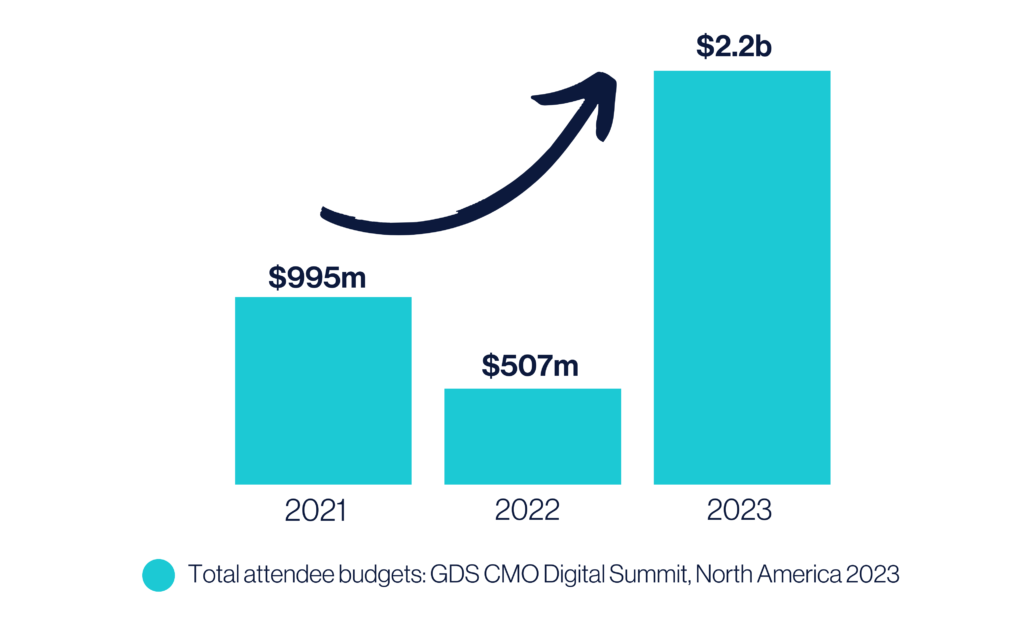 For solution providers eyeing the marketing arena, this is your golden ticket.
But before you break out the champagne, hold on to your hats. Our findings reveal that while there's increasing budgets, the spending on marketing-focused projects has remained fairly consistent, with a slight uptick from 2022 (from $6.3 million to $6.7 million). This stability in project spending is indicative of a more considered approach to marketing investments.
Instead of throwing money at random campaigns, marketing leaders are focusing on allocating resources where they can make the most impact. It reflects a maturing of the marketing discipline, with a growing emphasis on ROI (Return on Investment) and performance metrics.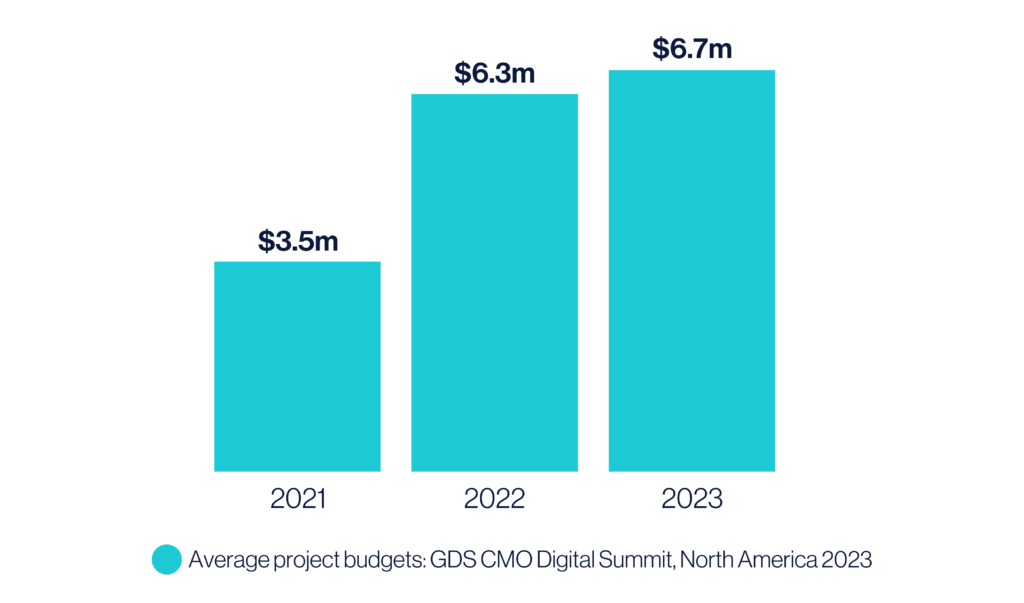 Where are they spending that budget?
Prepare to nod knowingly because content is still king. At our most recent CMO Digital Summit, 61% of senior marketing executives declared it was their top priority for 2023, which is similar to earlier this year. Delving into the specifics, as much as $18 million is earmarked for content-centric initiatives alone.
The continued emphasis on content is not surprising though. In an age where information overload is the norm, creating valuable, engaging, and customized content is key to cutting through the noise. The investment in content also reflects the ongoing importance of storytelling – marketing is not just about selling products or services anymore. It's about creating narratives that connect and resonate with your target audiences.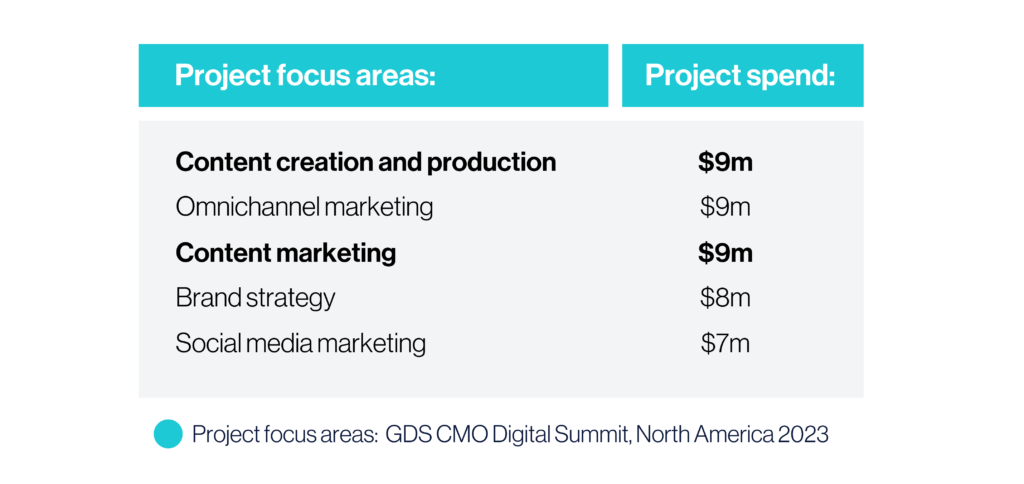 It doesn't stop there – $9 million is dedicated to omnichannel marketing, $8 million fuels brand strategy, and $7 million powers social media marketing. It is evident that brands are shapeshifting to meet customers where they are, delivering precisely what they crave, and in the formats they prefer.
Brand = stronger connections with customers
Are you among the 74% of senior marketing executives focusing on brand strategy in 2023? We hope so.
During our most recent CMO Digital Summit, brand strategy and purpose stole the show with 74% of senior marketers shining a spotlight on it. Our poll revealed that 57% are dedicated to building emotional bonds with customers, while 25% are intently focused on cultivating a value-driven internal culture.
Kevin Miller, CMO at The Fresh Market shared an absolute gem during his keynote when asked how they were able to deliver on their mission of becoming one of America's most loved brands:
"We know we can't do everything ourselves. We have a small department. We are a small company. It's important that we can find partners that can help us deliver against 3 very key strategic streams for us: 1. increase our reach, 2. increase our relevance, and 3. increase our revenue or reduce our costs."
Miller's insight emphasizes the growing significance of strategic partnerships and collaboration in marketing. We live in a world where specialization is the norm, and no organization can truly excel in every area of marketing. Strategic partnerships allow businesses to tap into expertise and accelerate projects at pace.
The key takeaway? Most brands can't go it alone. Sometimes achieving business goals and putting the brand in the driving seat requires technology investments and strategic partnerships, backed by data-driven insights.
Beyond the traditional remit
As the B2B landscape continues its rapid evolution, it's evident that the role of marketing itself is undergoing a profound transformation. Marketing leaders are no longer confined to traditional roles; they are expected to be growth catalysts, revenue wizards, and trusted advisors to the senior leadership team. This transformation is as a result of economic factors, which means that marketing has become more of a science than an art.
Of all of the C-suite roles, the role of the CMO has evolved the most and is often the most misunderstood and underappreciated.
"Many CMOs have now widened their focus and level of influence within the leadership team by understanding the core challenges of their organizations, getting to know their clients deeply, and executing strategic initiatives that deliver both revenue and growth."
– Evelyn Truter, CMO at GDS Group
So, what does this all mean?
The data gleaned from our CMO Digital Summit experiences reveal a promising future for senior marketing executives. With expanding budgets, a steadfast commitment to content, and a renewed emphasis on brand strategy, marketers are poised to flourish in this ever-evolving landscape. Moreover, the evolving role of the CMO underscores their growing influence and significance in driving organizational success. As we look ahead, it's clear that senior marketing executives are not just adapting to change – they are leading the way.
Curious to explore the insights in detail?

Download our full report to unearth invaluable data and trends to integrate into your marketing planning. In the worst-case scenario, you'll find it thought-provoking and insightful. In the best case, In either scenario, it's an unequivocal win-win for you.
Back to insights